Cincinnati Pool and Patio – Outdoor Living in Montgomery Made Easy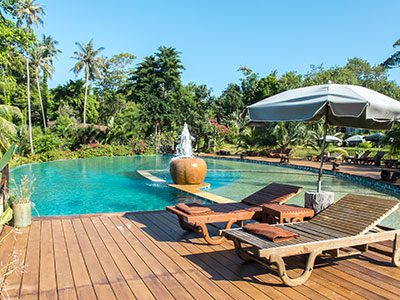 Relax in your own backyard with a pool or patio from our Montgomery pool and patio services. We offer professional services for pools, patios, hot tubs, and more. You can add a grill to your backyard or shop our selection of patio furniture. Our customer service reps are ready to answer any questions. See why people trust us for their outdoor needs.
Montgomery's Top Pool Experts
Our pool services encompass a wide array of needs. Whether you're a new or veteran pool owner, we are here to help. You can trust us with the best Mongtomery pool installation and pool maintenance.
Montgomery In-Ground Pools
Cincinnati Pool and Patio provides professional in-ground pool installs. We have over 15 designs of pools to choose from. You can rest easy knowing your installation is in good hands. In fact, we receive over 50% of our business from referrals. So, let the high-quality work of our installers speak for itself.
Montgomery Above-Ground Pool 
An above-ground pool is a great addition to your backyard. It can be a cost-effective alternative to an in-ground pool. You can find everything you need to customize your above-ground pool with us. We offer it all, from decking to landscaping to alternative sanitation systems. Contact our customer service team to learn about your options. 
Pool Accessories 
Cincinnati Pool and Patio provides many accessories for your pool. We can suggest the best liners, covers, toys, or cleaning accessories for you. Our customer service experts are well-informed and ready to help. No more driving around the city searching for the right accessories for your pool. Cincinnati Pool and Patio is your one-stop shop for Montgomery pool maintenance.
Pool Openings and Closings 
If you're having trouble opening or closing your pool, we got you covered. We will inspect everything in your pool to make sure it's working. When you open or close your pool incorrectly, it can cause problems year-round. With Cincinnati Pool and Patio, you won't have to worry about those issues.
The #1 Pick for Montgomery Patios
We commit to providing excellent outdoor solutions. Our Montgomery patio furniture selection includes sturdy products from the top producers. We provide many styles of patio furniture to Montgomery homeowners.
Montgomery's Grilling Authority 
Your summer isn't complete without a grill-out. We have a wide selection of styles, brands, and accessories. We have brands such as Napoleon, Firemagic and AOG grills. We have grilling experts available to answer any questions you may have. Make your next barbecue perfect with Cincinnati Pool and Patio.
Relaxing Spas for Montgomery
Adding a spa can take your outdoor space to the next level. We have a large selection of energy-efficient spas. You can even choose your preferred brand, features, colors, and size. Our sales pros are available to assist you with selecting the right hot tub.
Montgomery's Perfect Outdoor Amenities
Montgomery homeowners flock to our simple outdoor design center. Our experts can help you create the perfect custom patio in four easy steps. Talk to our Montgomery outdoor contractors about your ideas, and we'll create your layout. Approve the plans, and then we will begin constructing your outdoor living space. In no time at all, the outdoor escape you wanted will become a reality.
Cincinnati Pool and Patio has Montgomery Pool and Patio Services Covered
We have everything you need to transform your outdoor living space. Homeowners come to us first for professional advice on their backyard questions. We've been providing quality outdoor services to Greater Cincinnati since 1966. For expert help on all things outdoor, visit or contact us.