Cincinnati Pool and Patio – Outdoor Experts for West Chester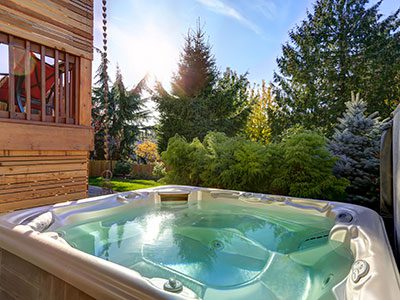 Our West Chester Pool and Patio services allow people to have everything they need for their ideal outdoor space. We provide a wide range of services like pool set-ups, pool openings and closings, spas, grills, and patio furniture. You'll find everything you need to completely remodel your backyard with Cincinnati Pool and Patio.
West Chester's Reliable Pool Services
Cincinnati Pool and Patio provides everyone with fantastic service. If you're looking for West Chester pool installation or pool maintenance, we got you covered! We want our quality service to be remembered through your exciting summer experiences.
West Chester In-Ground Pools
West Chester residents appreciate the quality of our in-ground pools and installations. It's important to us that we find the most qualified pool installers in your area. The skills our installers possess have impacted many residents. In fact, over 50% of our business comes from residential referrals. So, you know you're getting the best service with Cincinnati Pool and Patio.
West Chester Above-Ground Pools
Pools are an amazing addition to your home. Above-ground pools are great for those who don't have the space for an in-ground pool. They are also great for people who are looking for a cost-efficient option. Above-ground pools might seem boring at first, but we offer a variety of decking and landscaping options. We can customize anything you might want. This could be chlorination systems, lighting, ladders, and slides for your pool. Cincinnati Pool and Patio is the expert in remodeling your outdoor space to a whole new experience.
Pool Accessories
Cincinnati Pool and Patio has every accessory needed for your pool. Our service experts will be sure to give advice and answer any questions that you have about your pool. We will provide service for pool lining, pool covers, heating systems, chemicals, and sanitation systems. We also provide any other accessories that keep your pool in its best shape throughout the year. We want our customers to be completely informed. When it comes to West Chester pool maintenance, we are the top authority.
Pool Openings and Closings
Opening and closing your pool each season is the hardest task, and it's difficult to do so by yourself. Cincinnati Pool and Patio experts will handle opening and closing your pool. This will make it easier for you to maintain it during the summer. You can enjoy your pool once we make sure your chemicals, filters, and other maintenance tasks are taken of.
West Chester Patios Best Option
Whatever your vision for your future patio, it should feel like a dream getaway. West Chester's homeowners count on us to turn the dream patio into a reality. We have the biggest selection of patio furniture in West Chester. You'll be enjoying your backyard in style in no time with Cincinnati Pool and Patio.
West Chester Grilling Experts
Make your summer extra special by installing a grill that's made by the finest producers around. Our grilling experts can discuss the wide selection of grills and accessories that will complete your patio. Choose from our large collection of Firemagic, Napoleon, and AOG grills. West Chester counts on us to supply the best cookout selection in the area.
Top Hot Tubs/Spas in West Chester
Being able to relax in a spa right in your backyard should be at a price you can afford. West Chester residents will be educated on the various models and styles to each hot tub. Our experts will answer any questions you may have about features, sizes, colors, and the brand you choose.
West Chester Custom Outdoor Living
We make it easiest for our customers to create their perfect outdoor living experience. West Chester residents come to Cincinnati Pool and Patio for custom outdoor builds. Our West Chester outdoor contractors will fully grasp the vision you have for your outdoor living space in just a four-step process. Walk in with a general idea of your outdoor space and one of our pros will draw up the plans. Then we can review the design to start building the backyard of your dreams!
Cincinnati Pool and Patio is Trusted for West Chester Pool and Patio Services
Cincinnati Pool and Patio experts have been helping customers with their pools, hot tubs, patios, grills, and so much more for over 55 years. We help our customers with professional advice, products, and services for their outdoor living space. That has been the reason West Chester residents continue to choose us. Come check us out to see why we are recognized as "The Leader" in our market for the latest green technologies and why we have the best values for your outdoor living plans. Contact us for more information or stop on into our store, today.