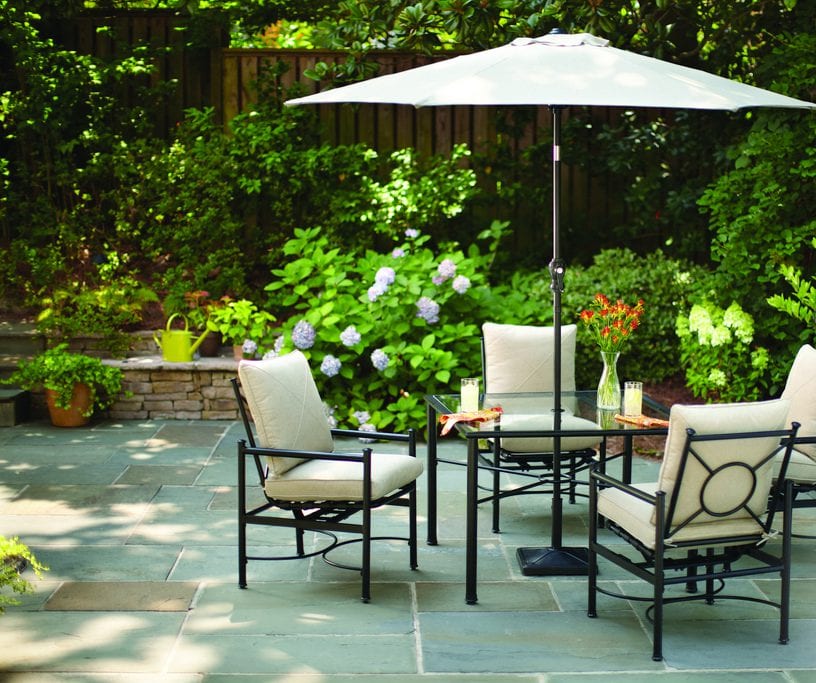 Don't try arranging patio furniture without reading these tips! Tired of rearranging your furniture over and over again? We've put together this list of patio arrangement tips to help you get it right the first time.
11 Tips for Arranging Patio Furniture
No more asking wondering "how do I arrange my patio furniture." Just make sure you follow these simple rules to create the perfect patio layout.
1. Make it Feel Like You're at Home
Bring the resort-style feeling to your backyard! Use end tables, side tables, and ottomans to add convenience to your patio. These additional outdoor pieces provide a spot to place loose items, drinks, and snacks.
2. Decide on a Focal Point
Create a focal point that will anchor your outdoor space. This will serve as the primary gathering point and the heart of your patio arrangement. The remaining decor will build off of this area.
3. Accessorize
Don't be afraid to accessorize with throw pillows, area rugs, greenery, and lighting. Adding in accessories can give your patio the look that people utilize the space.
4. Placement of Outdoor Furniture
Place the longest piece of furniture along the longest wall, facing the focal point. This will add to the area instead of detracting attention. Typically, the longest piece will be a 3 seat sofa or a love seat. Adding several individual chairs will encourage guests to "pull up a chair" and enjoy a good conversation!
5. Find a Purpose for Your Patio
Symmetrical patio furniture arrangements create a formal living space while asymmetrical arrangements are a bit more quirky and have a much more lax, casual feel. Pick which one you intend on creating
6. Consistency vs. Mix-and-Match
When figuring out how you want to arrange your patio, you should decide early on whether you want to have all your furniture from one set, or if you want to mix-n-match your patio sets.
Having your furniture come from one set or color can give your patio a sleek and modern vibe. While mix-n-matching will give your backyard a more rustic and homey feeling.
7. Divide and Conquer
By separating the space into smaller sections, you create a dynamic and functional living area. In this way, you have multiple areas of entertainment instead of one large patio with too much open space. By adding occasional chairs, an outdoor fireplace, or patio heater, you can craft an engaging outdoor living space.
8. Design Like a Traffic Conductor
When deciding on the layout of your patio deck, make sure you direct the flow of traffic in a way that eases congestion. Think about the way that guests will enter and travel through your outdoor space. Is there a clear and unobstructed path to the entrance and exit? Are there areas that will likely become crowded? You should allow 30″-48″ of space for high traffic areas. You can cut this measurement down to 24″ for areas that receive less foot traffic.
9. Organize!
Arranging patio furniture is just one step in the equation, you need to keep it organized as well. You want to keep things tidy just as you do inside the house. Especially if your neighbors can see over your privacy fence. A cluttered patio is one that your guests might not want to sit on.
10. Separate the Outdoor Kitchen
Keep the outdoor kitchen away from your dining area. You want to have some form of separation to differentiate between the two spaces. This also addresses safety concerns associated with the grill. Keep your outdoor kitchen close to the door to make food prep easy.
11. Fill the Perimeter First
On the other hand, if your patio is small, it's wise to keep your furniture arranged around the perimeter of the space. This opens up more room for you to move through and can visually create the illusion of a bigger space. A fun outdoor rug in the center ties it all together.
Keep in mind that you can always rearrange your patio furniture.
By adjusting with the seasons, you'll have a new perspective on your furniture that will make you appreciate it and make you feel like it's a whole new set!
Have any questions about arranging patio furniture or your backyard? Contact us here!