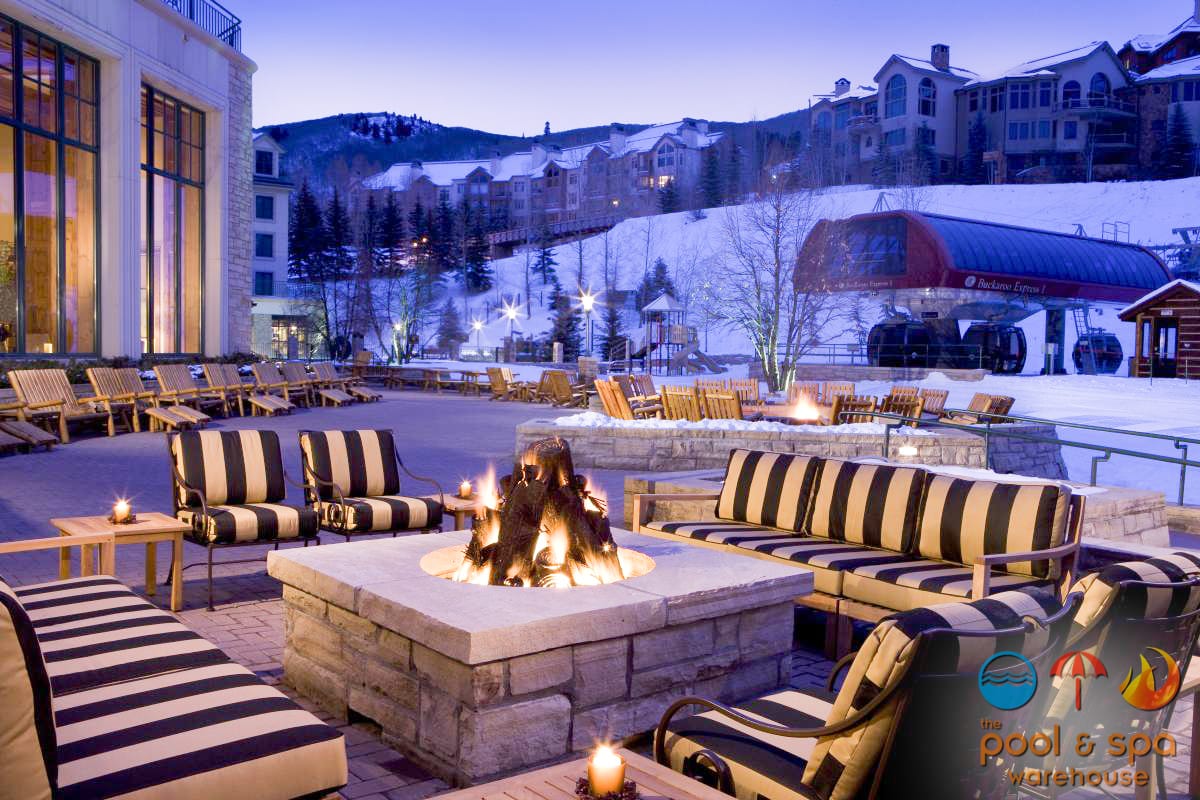 Prepping Your Backyard
If you've put a lot of time into designing your outdoor living space, winter's probably your least favorite time of year. The cold weather can present challenges for using your space and keeping your accessories in good shape. But no worries – we're here to help you with all that. Here are 4 areas in preparing your backyard for winter so you can enjoy it all season long.
Coverings for water features, outdoor kitchens, furniture
You've invested a lot in the items you put in your outdoor space, so it's important to make sure they stay in good shape all year long. Winter is one of the hardest times of the years on them, as the excess moisture and freezing temperatures can bring a whole host of problems.
For items like fountains or grills, heavy-duty vinyl covers should keep them safe and dry all winter. For outdoor furniture, look for covers made from water-resistant material to prevent any damage to the fabric. Make sure to get your items covered before the first snowfall!
Lighting Your Backyard for Winter
Though often overlooked, lighting is essential when preparing the patio for winter. The winter months offer the least amount of daylight at any time of the year, which can complicate using your outdoor space. With some good lighting, you'll get more use out of the area plus have a natural security and safety feature. Your light fixtures don't have to be fancy – basic ones are usually the best way to go and do better when it comes time to sell the home.
Patio Heating
By far, heating is the most crucial element for any outdoor space in the winter. If you don't keep it warm then it's going to be hard to spend quality time out there! Wood burning or gas fire pits always make a great option here, as they can double as both a heating device and a great patio centerpiece.
For the smaller outdoor space, try something like an electric patio heater, which is both powerful and compact, providing plenty of heat without needing a lot of room.
Plants
Plants are one of the easiest ways to add color to the outdoor space, but they can also be some of the most fragile items out there. No time of the year is this truer than winter when the freezing temperatures can damage root systems and the moisture from snow and freezing rain can drown plants.
If you have plants that can be easily transplanted, try moving them indoors before you get your first freeze. For outdoor planters too big to bring inside, wrap them with a heavily insulated material, like burlap, to keep the soil warmer and prevent damage to the planter itself.
If you're dreading the thought of not being able to spend time in your backyard for winter, put your worries aside. Just keep these 4 tips in mind and you'll have an outdoor space you can relax in all winter long!
Have any questions about your outdoor space? Contact us here!