Cincinnati Pool and Patio – Beautiful Backyards for Covington, KY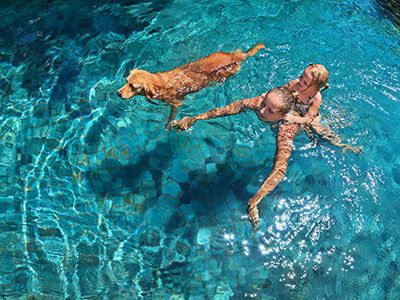 For Covington pool and patio services, you can choose Cincinnati Pool and Patio. From pools to grills, we have everything you need for a perfect backyard. And our excellent customer service is here to assist you. With our help, it's easy to plan a memorable summer.
Cool Covington, KY Pools
Take a dip in your own pool thanks to Cincinnati Pool and Patio. For Covington pool installation and pool maintenance, we are the authority. We offer a variety of products and services to enhance the pool experience for all pool owners.
Covington In-Ground Pools
Cincinnati Pool and Patio offers 15 different styles of in-ground pools. We have the installers with the knowledge to get the job done. A pool's installation quality is what makes all the difference to its long-term performance. Residents of Covington, KY know they can trust us to install their pools. There's a reason why we get over half of our business from referrals. Check out for yourself why we're all the rage in your neighborhood.
Covington Above-Ground Pools
If you have a small backyard, above-ground pools are a cost-effective alternative to inground pools. We offer a wide range of landscaping and decking options for above-ground pools. We also offer customization options such as ladders, slides, and alternative sanitation systems.
Pool Accessories
With the right accessories, your pool will perform at its best. Cincinnati Pool and Patio offers liners and covers to keep your pool safe. Besides to pool chemicals to keep it clean, we provide fun summertime toys to go with your summer staple. You no longer have to drive all over town to buy pool accessories; We are the one-stop pool shop for homeowners in Covington, KY.
Pool Openings and Closings
Opening or closing your pool by yourself can be challenging. Incorrect opening or closing can damage your pool or make it not function. Let us handle your pool opening or closing. You won't have to worry about doing it right. Our team will make sure your filters, attachments, and chemicals are working. You'll be able to enjoy the water this summer without any stress.
Sturdy Patio Furniture for Covington, KY
You can't enjoy your patio without a place to sit! Cincinnati Pool and Patio is the best for Covington patio furniture. Our selection of the most durable furniture from the leading brands is second-to-none!
Fire Up the Grill, Covington, KY
Cincinnati Pool and Patio can help you plan the perfect summer grill out. We offer residents of Covington, KY, a selection of the best grill brands. Our brands include Firemagic, Napoleon and more. Plus, our grilling experts can answer all their grilling questions. Our dedicated customer service specialists provide the right accessories and guidance.
A Blissful Backyard for Covington, KY
Cincinnati Pool and Patio can help you create the perfect outdoor space. The process of creating the perfect backyard spot is simple for our Covington, KY customers. The perfect backyard is four steps away:
1) Come to our store.
2) Discuss your vision with one of our Covington outdoor contractors.
3) Our contractor drafts plans based on your specifications.
4) Construction starts upon approval!
That's all there is to it! It's that simple. The Cincinnati Pool and Patio team will make your backyard the envy of your neighborhood in no time at all.
Covington Pool and Patio Services at Cincinnati Pool and Patio
Cincinnati Pool and Patio handles Covington pool and patio services. We have helped customers in the Greater Cincinnati and Northern Kentucky area make their backyards perfect. With over 50 years of experience, Covington relies on us to make their summers amazing. With everything from the most perfect pool to the best burger, we can do it all for you. See for yourself what a difference Cincinnati Pool and Patio can make this summer. Visit our store or contact us to learn more.