Cincinnati Pool and Patio – Outdoor Experts of Fort Thomas, KY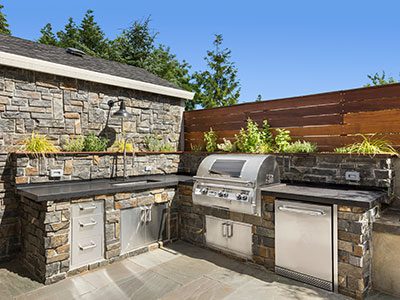 A relaxing patio or great-looking pool makes a perfect addition to your home. Cincinnati Pool and Patio offers professional Fort Thomas pool and patio services. Whether you need a grill to finish your patio or maintenance for your pool this summer, we provide it all for you. Our customer service pros will answer your questions about our products. No matter what you need for your backyard, we've got the expertise to give it to you.
Fort Thomas, KY's Leading Pool Specialist
Whatever you need for your pool, we have the best installers, products, and services. You might already be thinking of the pool design you want, but it's the installer that makes the difference. Cincinnati Pool and Patio will make your summer one to remember and fill the needs of your outdoor space. For Fort Thomas pool installation or pool maintenance, we are here for you.
Fort Thomas In-Ground Pools
We offer the best Fort Thomas pool installation for your in-ground pool. There are over 15 designs for you to choose from, and we back up every installation with superb service. We're confident our abilities will meet your expectations. Over 50% of our business is from referrals because we can ensure a quality finished product. So, let the high-class work from our in-ground pool experts speak for itself.
Fort Thomas Above-Ground Pools
Above-ground pools can transform your outdoor living space. They can be a great alternative to in-ground pools if you're lacking the space. Cincinnati Pool and Patio offers Fort Thomas' homeowners customizable above-ground pools. We can install your above-ground pool with many different decking and landscaping options. Whatever your style is, we have something to fit. Speak to one of our customer service pros and we'll help you choose the right above-ground pool.
Pool Accessories
Cincinnati Pool and Patio has everything you need for your new or existing pool. We can make suggestions for liners, covers, or accessories and help you decide which is best for your pool. Our customer service reps can help with any Fort Thomas pool maintenance questions. We have all the knowledge to address your outdoor living concerns. You won't have to drive around the city looking for products and answers.
Pool Openings and Closings
We can take care of all your needs for
opening and closing your pool
for the season. Opening your pool can be the hardest part of owning one. We'll ensure that your filters, attachments, and chemicals are functioning
correctly
.
Improperly
opening or closing your pool can cause a list of problems for your pool year-round. Cincinnati Pool and Patio can cut the possibility of that happening.
Primary Choice for Fort Thomas, KY Patios
Cincinnati Pool and Patio wants to help you create the outdoor space of your dreams. We have an extensive collection of patio furniture in Fort Thomas available to you. Our selection includes durable furniture from the most reliable brands. Fort Thomas, KY residents can count on us to provide the best furniture for their patio.
Fort Thomas, KY Grill Specialists
Make your summer something special by adding a grill to your patio space. We offer a collection of brands, styles, and accessories to make your next cookout perfect. Our sales pros will answer any of your questions about our grill selection. We offer Napoleon, Firemagic, AOG, and many other grill brands. Whatever you choose, our experts are here to help.
Energy Efficient Spas in Fort Thomas, KY
Adding a spa to your backyard can be the finishing touch to your perfect outdoor space. Cincinnati Pool and Patio has the options to make that happen. We carry energy-efficient spas in a variety of brands, features, colors, and sizes. We can answer your questions or help you find the right hot tub. Our sales associates are here to help!
Fort Thomas, KY Outdoor Amenities
You will have a convenient outdoor design center for backyard customization with Cincinnati Pool and Patio
. Whatever you envision your patio looking like one day, our experts can help you bring your design to life. Our process is
just
four steps. Come on in to explain the details of your ideas to our Fort Thomas outdoor contractors. Then, we'll mock up a visual representation of the layout. Once you approve the design, we will get started on constructing your vision. Soon enough, the getaway space you always desired will be right outside your own home.
Cincinnati Pool and Patio Provides All Fort Thomas Pool and Patio Services
From relaxing on your custom-built patio to kicking back on a float in your new pool, Cincinnati Pool and Patio can do it all
. Fort Thomas's homeowners come to us for professional advice for their outdoor needs. We are the local experts they can count on. Since 1966, we've been assisting the Greater Cincinnati area with all their outdoor needs.
Contact
Cincinnati Pool and Patio or come into our store for expert help on all things outdoor.