Cincinnati Pool and Patio – Backyard Specialists for Hyde Park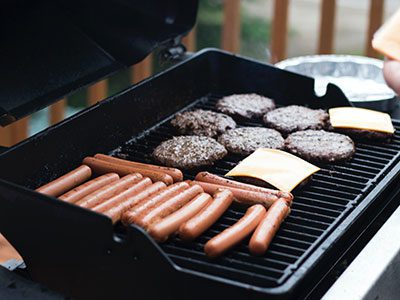 Cincinnati Pool and Patio is home to all Hyde Park pool and patio services. Do you need to open or close your pool for the season? Are you looking for chemicals to keep your pool or spa clean? Are you thinking of adding a new grill or patio furniture to your patio? Anything you can think of for outdoor living, Cincinnati Pool and Patio has it and the experts to help.
Pools in Hyde Park
Whether you're a first-time pool owner, or you've had one for years, Cincinnati Pool and Patio is here to help. From Hyde Park pool installation to pool maintenance, we're here to make your summer great.
Hyde Park In-Ground Pools
The skill of the installers is the most important thing when it comes to in-ground pools. We have a wide variety of in-ground pool types to choose from at Cincinnati Pool and Patio. Pick your shape and depth, and our expert installers will handle the rest. Our experience speaks for itself. Over 50% of our business comes from referrals, so you know you're getting a quality installation.
Hyde Park Above-Ground Pools
Above-ground pools are an option if you want a pool, but don't have the budget or space for an in-ground pool. We have many different types of decking and landscaping options to choose from. Your above-ground pool will be a beautiful addition to your yard. There are also alternative chlorination systems, ladders, lighting, or slides available. The customization options are endless. Hyde Park residents choose Cincinnati Pool and Patio for our above-ground pool expertise.
Pool Accessories
Your pool needs many different accessories to stay at its best performance. We have many options for pool covers, liners, cleaning accessories, and toys. Find your chlorine, saltwater sanitation systems, and other chemicals with us too. You won't have to worry about driving all over town to find what you need for your pool ever again. We also have dedicated sales pros with the knowledge to help with Hyde Park pool maintenance.
Pool Openings and Closings
Opening or closing your pool at the beginning or end of the season by yourself can be a challenge.
Schedule your pool opening or closing
with Cincinnati Pool and Patio. You won't have to stress about getting everything right. We'll handle the chemicals, filters, attachment, and maintenance tasks for you. You'll know it's done right thanks to us.
Hyde Park's Extraordinary Patios Start Here
There's nothing better than enjoying a summer afternoon on your patio. Make your backyard space special with our selection of Hyde Park patio furniture. Hyde Park homeowners know that we have everything they need to make their dream patio a reality.
Grilling in Hyde Park
A summer barbecue is always a good time. Hyde Park knows they can find the best selection of grills and grilling accessories with us. We have all the leading brands, from Firemagic to Napoleon and more. You can peruse our selection and ask our grilling experts questions in-store.
Hyde Park's Relaxing Hot Tubs
Ending your day with a nice soak in your own backyard is possible with a hot tub from Cincinnati Pool and Patio. Hyde Park homeowners visit us for our selection of hot tubs and spas at a variety of price points.
Just
pick out your preferred brand, color, feature, or size. We'll have something for you that will make your backyard oasis perfect.
Hyde Park Outdoor Living Solutions
Hyde Park homeowners appreciate the simplicity of our outdoor renovation process. Our four-step process is easy. Come to our store and speak with one of our Hyde Park outdoor contractors to discuss your vision. Our team will then draw up plans for you to approve, and then that's it! We'll get to work planning the construction of your space. Soon you'll be entertaining in and enjoying your perfect outdoor environment.
For Hyde Park Pool and Patio Services, Everyone Loves Cincinnati Pool and Patio
Cincinnati Pool and Patio is Hyde Park's top provider of outdoor entertainment. We have it all from grills, to pools, to spas and outdoor renovation. Our products and service are second to none, which is why we've been a leader in the Cincinnati area since 1996.
We're dedicated to the best customer service experience possible, no matter what product or service you're interested in
.
Contact us
or visit us in person to find out what the Cincinnati Pool and Patio difference is all about.