Cincinnati Pool and Patio – Premium Outdoor Living for Mount Lookout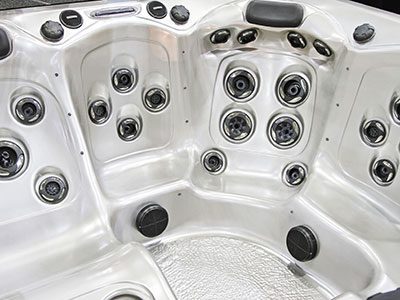 You can create the ideal backyard living space with our Mount Lookout pool and patio services. We offer a full range of customer service options, like a complete custom build, plus installing and maintaining pools. Our goal is to exceed our customers' expectations by providing the best outdoor entertainment in Mount Lookout.
Mount Lookout's Professional Pool Services
We are committed to providing the best Mount Lookout pool installation and pool maintenance. We have served the area since 1966 and will continue to serve first-rate products for all your outdoor needs. Get in touch with one of our pool specialists to discuss our options for your new backyard staple.
Mount Lookout In-Ground Pools
Our in-ground swimming pools come in a variety of designs and styles. Mount Lookout residents benefit from the quality of our installations and customer assistance. As a result of the work of our pool installers, more than 50% of our business comes from referrals. We can provide you with the right in-ground pool product and answer all of your questions.
Mount Lookout Above-Ground Pools
Mount Lookout homeowners have a number of options for their above-ground pool that fits perfectly in their outdoor space. For those who do not have the room or budget for an in-ground pool, above-ground pools are a great alternative. We also offer pool decking, landscaping, and additional add-on features to fit your above-ground pool needs.
Pool Accessories
We have everything you need for Mount Lookout pool maintenance. Our store offers cleaning chemicals, saltwater sanitation systems, and other pool products. With us, our customers do not have to travel far to meet their pool needs. There are many accessories and technologies you can add to your pool for a sustainable experience. We even have well-informed experts who will assist you with accessories for your pool.
Pool Openings and Closings
Opening and closing your pool properly is the most important and most difficult step of the pool-owning process. You can rely on Cincinnati Pool and Patio to make your pool operate efficiently. Customers can count on us to exceed their expectations. We offer great value when it comes to customer service.
Mount Lookout's Premium Patio Furniture
With Cincinnati Pool and Patio, you will be able to design the patio of your dreams. Our Mount Lookout patio furniture options are made with durable materials and expert craftsmanship. Our service experts can help you transform your existing patio into what you have always envisioned.
Mount Lookout's Grill Authority
Adding a grill to your backyard can be the perfect final step in creating the perfect outdoor space. The grill models we carry are unique and come in a variety of styles to meet everyone's patio needs. At Cincinnati Pool and Patio, our grill experts can help you choose from Napoleon, Firemagic, and AOG grills. Come see for yourself and pick out the perfect grill for your next cookout.
Soothing Hot Tubs for Mount Lookout
The convenience of having an affordable, energy-saving spa right at home is amazing. Mount Lookout residents have access to the best selection of hot tubs in town. We have many brands, colors, shapes, and features. Our service reps can assist you in selecting the spa of your choice.
Mount Lookout's Outdoor Living Experts
You can now custom-build your dream patio with Cincinnati Pool and Patio. With our four-step process, you'll be able to get creative and make the most of the patio you're building. We invite you to stop in and talk to a Mount Lookout outdoor contractor about your idea. Then we will review it for building. You can explore your ideas at Cincinnati Pool and Patio, and we will handle everything else.
Cincinnati Pool and Patio – the Mount Lookout Pool and Patio Services Resource
We have been Mount Lookout's most trusted outdoor service pros since 1966, and we will remain their go-to experts for years. We provide our customers with advice and service to help them understand and utilize each product we offer. You can visit our store or contact us if you'd like to see for yourself what we have to offer.