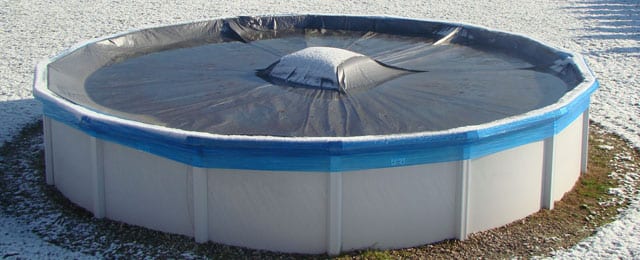 With summer gone, it's time for above ground pool owners to close down their pools. Winter brings frigid temperatures and ice can cause thousands of dollars of damage to pools that aren't prepared correctly. That makes properly closing down your pool an essential part of pool maintenance. Here are our key steps to prepare your pool for fall weather and beyond.
Above Ground Pools
You'll need to remove and store pumps and filters. Insert plugs into the pool filter water intake and outflow openings (usually in the pool's sidewall). Disconnect all hoses from the pool and let it drain. Disconnect and drain all water heaters, filters, skimmers, automatic chlorinator, or salt chlorinator, and then store these in a warm, dry place like your basement.
Lastly, inflate and deploy the pool pillows and cover the pool. Be sure the cover is secure so that it won't blow away and that there is enough support from the pillow underneath so that ice meltwater will drain easily from the cover. Otherwise, ice and meltwater can stretch and tear the cover and contaminate your pool water.
Closing down your pool may sound like daunting maintenance job, but it's something that can be finished in the span of a week but A mistake could cost you thousands.
If you don't feel confident enough to do the job correctly yourself, give us a call! We offer above ground pool closing services.