Cincinnati Pool and Patio – Sharonville's Favorite Outdoor Service Spot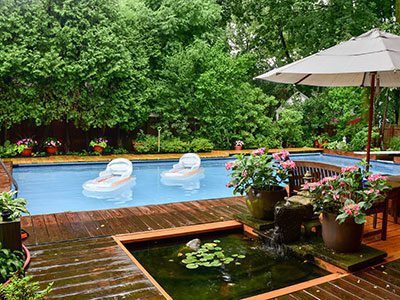 Cincinnati Pool and Patio can help you achieve your dream backyard getaway. Sharonville pool and patio services allow homeowners to transform their yard into their own oasis. If you need a grill for the family cook, a pool for the swim team, or a spa to wash away your worries in, we got you covered. Cincinnati Pool and Patio can give you the tools to make your summer superb.
Splash Around in Sharonville Pools
Why wait around to get started making your backyard your perfect staycation spot? This transformation is much closer than you may think. We can pool owners relax and be confident that they are getting the best pool experience in the area. Whether you need pool installation or pool maintenance in Sharonville, we're your go-to.
Sharonville In-Ground Pools
You could have the best pool around, but if the installer doesn't know what they're doing then it's all for naught. You won't need to worry about that with Cincinnati Pool and Patio. We have installed in-ground pools for years and over 50% of our business comes from referrals. Sharonville's homeowners know that they can rely on us and are eager to tell their friends about it.
Sharonville Above-Ground Pools
Above-ground pools are a popular alternative to an in-ground pool, especially for those with a smaller budget. Cincinnati Pool and Patio also provides a variety of landscaping and decking options. Not to mention all our pool customization options like slides, ladders, and alternative sanitation systems.
Pool Accessories
To stay in peak performance, your pool needs the right accessories. We always have the correct cleaning accessories, toys, covers, and liners to add to your pool. You don't have to worry about spending all day driving all over town looking for the right accessories for your pool. Our customer service pros are always willing to help and are well-informed about pool care options. Trust us for all your Sharonville pool maintenance needs.
Pool Openings and Closings
Nobody likes going through the process of opening or closing their pool and doing it yourself can be quite the challenge. Guarantee it is done right and hassle-free by letting Cincinnati Pool and Patio take care of it for you. Making sure your pool is opened and closed properly is key to keeping your pool in good working order. When we open or close your pool, our experts will make sure your attachments, chemicals, and filters are all working. This leaves the last task to you: enjoying your pool!
Sharonville Patio Furniture Shop
Sometimes you just want to take a seat and hang out in your backyard. You'll need patio furniture to do that! Our selection of top-quality patio furniture brands lets homeowners decorate their patios.
Can You Smell What Sharonville Grills are Cooking?
Make your neighbors jealous, not just by the smell of your cookout food but also by your grill! Cincinnati Pool and Patio stocks a variety of leading grill brands, like Napoleon and Firemagic. Have a grill question? Our experts are always willing to answer any inquires you have to ensure you know you're making the right choice.
Sharonville's Outdoor Living Experts
Everyone has a dream and sometimes that dream requires some outside-of-the-box design work. Cincinnati Pool and Patio works with Sharonville homeowners to create custom-built backyard spaces. Our simple four-step process makes it a breeze to get started:
Come into our store.
Tell one of our Sharonville outdoor contractors about your outdoor space ideas.
The consultant will create a draft for your outdoor space's design.
Once you approve the plans, construction begins!
See? It's that simple. Soon your neighbors will be asking to come just to hang out in your outdoor oasis.
Cincinnati Pool and Patio is the Top Sharonville Pool and Patio Services Shop
Let Cincinnati Pool and Patio elevate your summer to it's best potential with our backyard essentials. For all things outdoor, from grills to pool to furniture, Sharonville residents know they can depend on us. Check it out for yourself by stopping by and seeing us in store. Have any questions? Contact us and our customer service experts will help you get started.