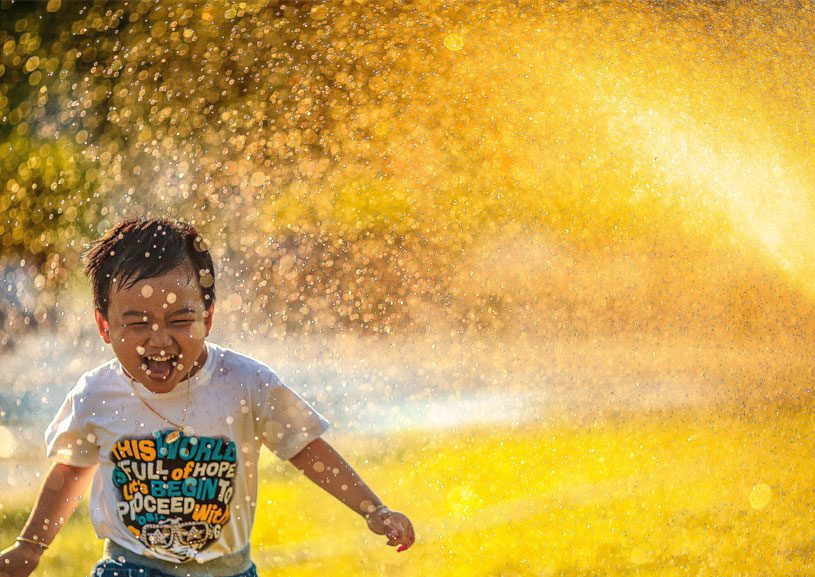 It's been a hot summer in Cincinnati already, and it's only going to get hotter. As temperatures soar, it's tempting to decide to stay inside in the air conditioning to beat the heat. But you shouldn't discount time outside even when it's hot out. Adequate sunlight exposure even in the year's hottest months is healthy for everyone. So how can you take advantage of the sunshine but stay cool on your patio this summer?
Well, you're in luck! We've compiled a list of the top ways you can stay cool on your patio this summer. So, break out the sunscreen and make sure you drink plenty of water and keep reading for our top fun ideas for staying cool outside this summer!
Use Water
Staying cool with water is usually the first idea most will think of. Here we've rounded up the top ways to have a splashing good time this summer!
Pools
Inground, above ground, or semi-inground, a pool is the best way to beat the heat in the summer. If you're spending time in your pool, make sure to keep up with proper maintenance procedures. Algae blooms more easily in warmer water, so test your water chemistry frequently and use enough chlorine and algaecide to keep bacteria and algae at bay.
While you're splashing around in the pool, don't forget about pool safety! Make sure the pool area is always supervised by an adult, and that everyone knows how to swim. If you or your family need to brush up on your swimming skills, it's never too late to sign up for swim lessons!
Misters
Have you ever been to a theme park on a hot summer day and walked by a machine blowing cool mist? Did you know you can get a mister for your backyard, too? These machines are relatively inexpensive and can be a lifesaver on a hot day outside. Simply plug it up to your garden hose, follow the directions, and enjoy a cool mist to beat the heat. Misters come in several varieties, from overhead to freestanding, so do your research and choose the best mister for your patio layout.
Sprinklers
Another way to stay cool on your patio this summer is to recapture your childhood summer memories! Hook up a sprinkler on the lawn and hop, skip, and jump through the water to cool off on a hot day. It's fun for the whole family!
Water Games
Whether you're more of a water balloon or water gun war kind of person, either game is a great choice to beat the heat this summer. Fill up a pack of water balloons or grab some squirt guns and challenge your family and friends to an all-out water war!
Shade
When you're done splashing around, you'll want a cool place in the shade to relax in the heat of the day. Adding or enhancing the shaded areas of your backyard is another option to stay cool on your patio this summer. Here are our favorite shady options.
Pergolas
Do you want an attractive structure to keep your patio shady all year long? Building a pergola and covering it with sun-blocking fabric will provide a shady oasis in your backyard for years to come. If you're looking to renovate your patio space, our backyard experts can help you choose the perfect pergola design to stay cool.
Umbrellas
A colorful patio umbrella provides shade to a smaller area but is still a great option if you don't have the space for a permanent fixture like a pergola. You can purchase a standalone umbrella or one that attaches to a patio table to create a shady spot to chow down on your grilling.
Awnings
Retractable, temporary awnings are also an alternative to adding a permanent pergola to your patio. The awning can be assembled at the start of the summer and taken down when it gets cooler, so you don't have to worry about winter winds or snow tearing the awning. You could also invest in an electronic retractable awning so you have shade when you need it, and you can put it away when you don't.
Screens/Curtains
If you have an overhead shade structure of any kind, adding outdoor screens or curtains to block out more light can help keep you cooler on the hottest summer days. As long as you have enough airflow, enclosing your patio space can help you stay cool on your patio this summer.
Plants
For a more decorative and green way to stay cool, planting trees or shrubs to block sunlight can also provide shade to your patio. Trees are a long game unless you purchase a tree that's already matured to replant in your yard. They may not offer lots of shade right away, but in several years, a large tree can cast shade over your entire backyard. Shrubs and other leafy plants can provide smaller patches of shade or be used in place of screens or curtains on your patio.
Cooling Décor
Finally, make sure your patio has the right décor to keep the sun off and the fun on! Here's our roundup of the best décor to stay cool on your patio this summer.
Rugs
Wood and concrete patios can get hot in the sun very quickly. If you don't want to have to wear shoes on your patio all the time, invest in a nice outdoor rug. It adds color and will not retain heat from the sun as much as bare decking would. It also gives your feet a softer surface and makes the patio look cozier.
Choose the Right Furniture
Metal patio furniture will absorb heat and may likely be too hot to use in the sun. Wicker or light-colored plastic patio furniture will withstand sunshine and won't be as hot to the touch as darker materials might be.
Fans
Keep air circulating on your patio on those sticky summer days with a fan! You can install a ceiling fan under your patio structure or get a standalone electric tower fan. The choice is yours, but airflow on a hot day is the best way to stay cool.
Beat the Heat with Cincinnati Pool and Patio
It takes a bit of preparation but having fun in the summer sun is doable with Cincinnati Pool and Patio! If you're thinking about adding a pool to your backyard or renovating your patio space to be the perfect shady oasis, get in touch with us! Our experts will help you with everything you need to stay cool on your patio this summer!