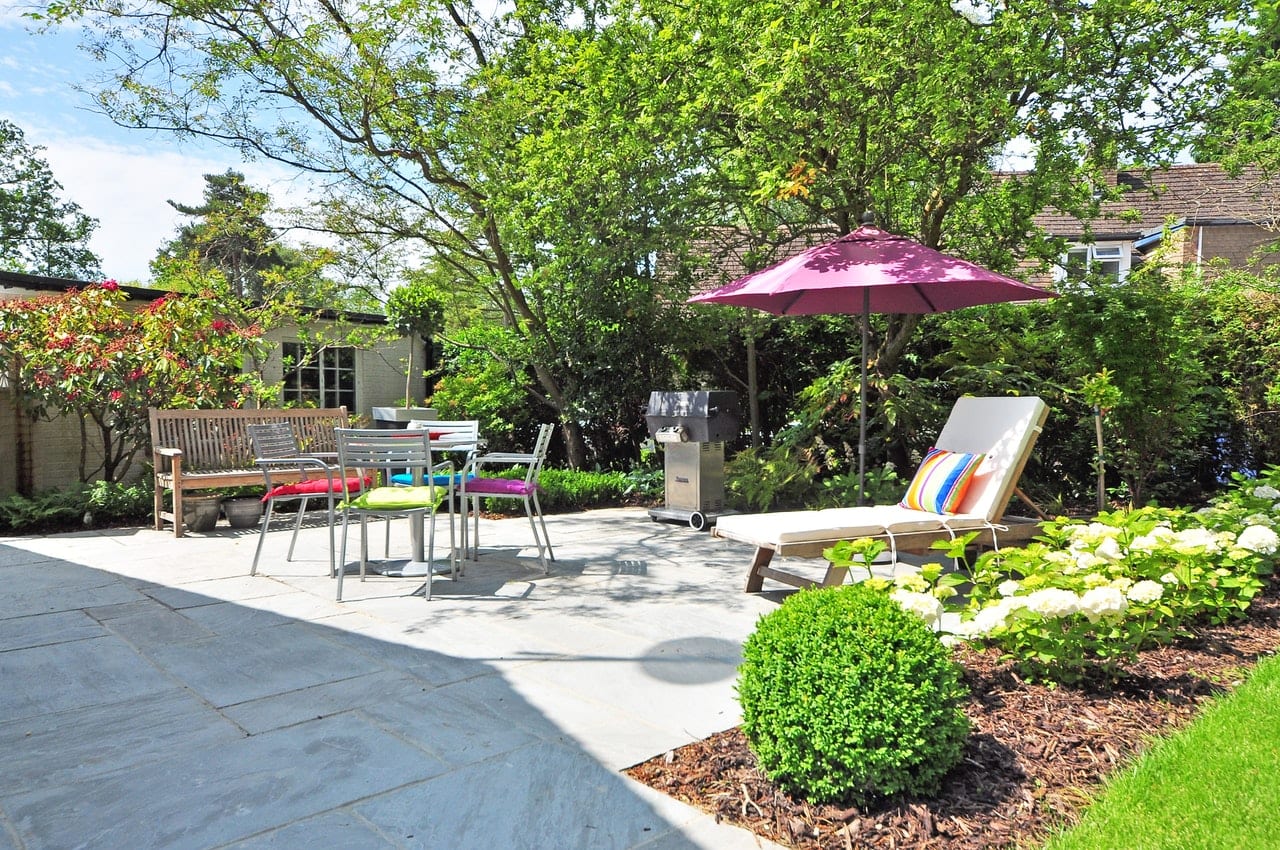 10 Ways to Freshen Up Your Backyard for Spring
Spring has arrived and it's time to bring the indoors out with cozy features. Your backyard is a continuation of your home which showcases your style and personality. Extend your time in the fresh air with outdoor seating areas that feel as cozy as your couch.
Here are some of our favorite tips to freshen up your backyard in time for spring.
Define Your Backyard
Deciding what spaces you need—dining area, cooking area, shady lounging area, play area—and clearly defining them can make a big visual impact on a yard. Your design is reliant on the space of your backyard, but you don't need a large backyard to have a great outdoor space.
Even in the smallest backyard, you can update your space in a fresh and easy way. Doing this can be as inexpensive as repositioning the furniture you already have. Or reupholstering new fabric on your outdoor lounge and chairs.
Create an Outdoor Living Room
A living room forms a gathering place in your home, so why not have the same outdoors? Outdoor loveseats, chairs, and a coffee table are simple elements that are generally inexpensive.
Whether they're looking for a place to eat or a comfortable spot to unwind, a mix of seating options will keep everyone happy. When you have a variety of comfortable seating choices, it adds flexibility and openness to your space. A pergola acts as a roof to create a defined space, just as your walls do indoors. With the addition of brick flooring, comfy furniture, and a warm fireplace, you'll feel right at home.
Effortlessly blend your indoor and outdoor space with an open-air living room. Comfortable seating, an outdoor bar, and floor-length curtains will make space feel like an extension of your home.
Focus on Color
Your backyard is a continuation of your home, so your outdoor design should be too. A coordinating color palette allows your design to flow both indoors and out with accent colors making each space unique.
Create a welcoming outdoor retreat by incorporating accent pillows to your backyard design. Mix and match patterns and colors to perk up your outdoor furniture. Don't be afraid to go bold, pillows are easy to change.
Add Some Heat
With beautiful views and a custom outdoor space, your deck is the perfect place to enjoy the spring air. Add a free-standing hot tub to stay warm on those chilly nights or enjoy time with family and friends. Or get a grill so you can enjoy some sizzling food in the spring sun.
A fire pit surrounded by comfortable seating creates a great spot to gather with friends and family. There are fire pit designs for every possible taste and preference – from bricks and concrete to metal.
Secluded Paradise
We all need a getaway from time to time. You can create a secluded area that feels warm and cozy in your own backyard. Natural landscaping creates the perfect backdrop for your backyard. You can add a few wicker chairs and a matching end table that mimic the surrounding landscape to enjoy your peaceful retreat for hours.
Plants are a flexible, quick, and budget-friendly way to update your outdoor design each season. Adding vines to a pergola or fence softens the space while adding variety and interest. For a splash of color, consider potted plants that give you the flexibility to replace depending on the season or your color palette.
Utilize fencing.
A fenced-in backyard gives you privacy from street traffic and neighbors. Instead of a solid fence, choose a style that is more open. It will make your backyard seem larger. A lattice fence is perfect for small backyards.
Think Small
Pieces with thin frames and petite bodies make a small space feel roomier. Compact bistro sets are perfect for a garden corner or porch. Built-in benches will maximize seating and storage in minimal space.
Light It Up
Lighting plays a major role in how space feels. So incorporate both task and ambient lighting to create the mood you want and to provide the amount of light you need.
Create Ambience
Now that your backyard is looking like it should, take the extra steps to turn it into a place you will want to spend time in. If you don't have appropriate garden lighting, there is cheap solar lighting that is easy to install.
A water feature adds good feng shui and if you don't have appropriate garden furniture, there is attractive plastic garden furniture that is virtually maintenance-free, resistant to the elements, and easy on the pocket.
Also, comfy outdoor living requires shade, so make sure to include a sun umbrella, canopy, or pergola above any seating area.
Have any questions about creating your perfect backyard? Contact the experts here.