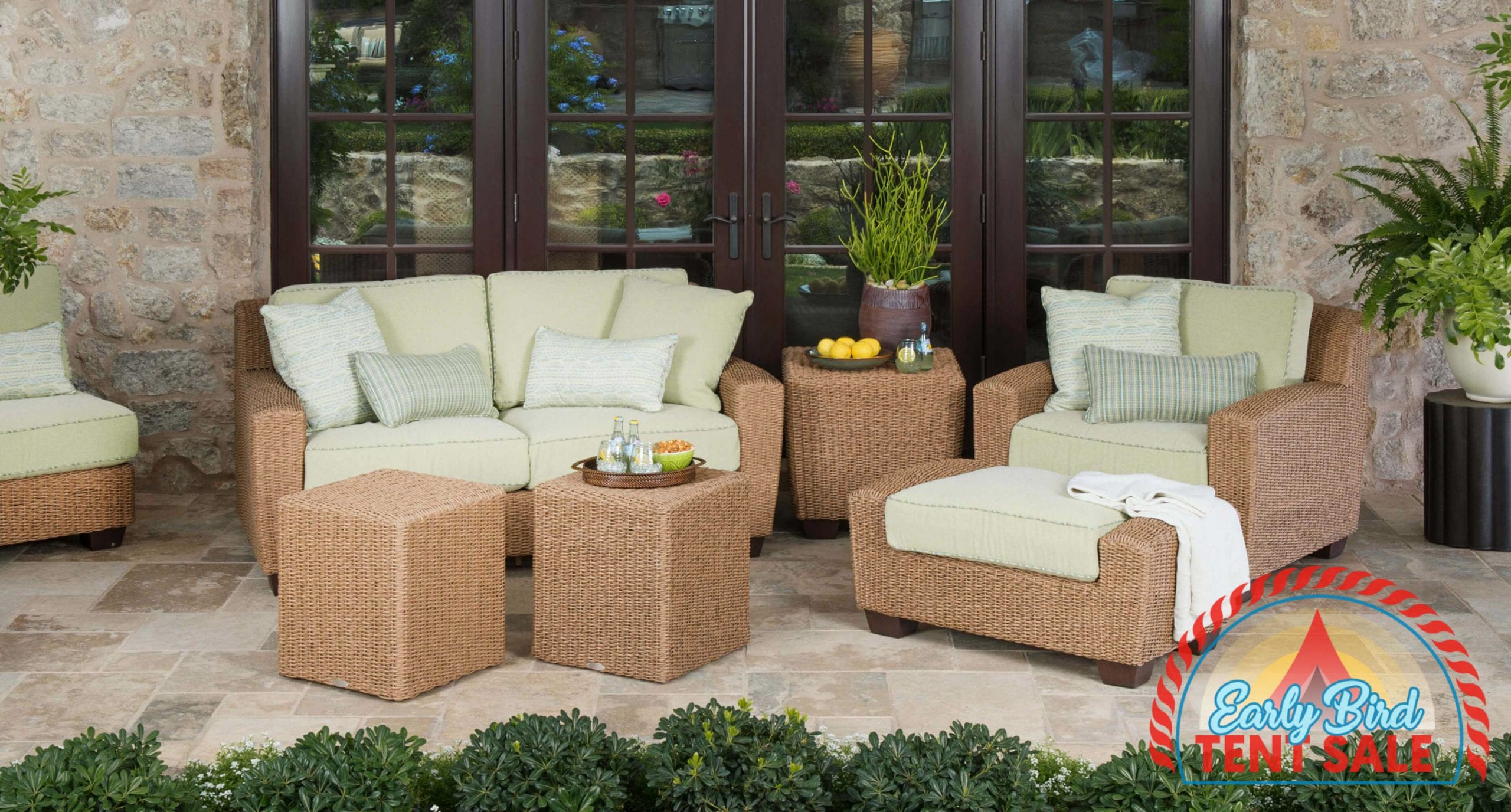 We've extended your chance to grab the best deals of the season at Cincinnati Pool & Patio! 
Find 75% off all patio furniture, all clearance items, and scratch-n-dent items April 2nd through April 8th! 
EXTENDED EARLY BIRD TIPS
COMFORT
Comfort is important — very important. You may want steel or wood construction in your patio furniture for stability and longevity, but don't forget that without some homey comforts like soft, plush cushions, your outdoor furniture will go largely unused. Avoid pancake cushions. You know, those thin, puny little cushions that aren't plush or even very pliable. Opt for chubby cushions that feel light when you pick them up. Look for cushions with polyester filler, too. The more lightweight and springy the filler is, the more quickly it will dry out after exposure to moisture. That means it will resist mold and mildew and stay comfortable and sweet-smelling longer.
TEXTILES
You can't grab a pillow from your family room and expect it to adapt to life outside on the patio. Most textiles designed for indoor/outdoor use are made from all-weather materials that repel water or encourage moisture to evaporate quickly by remaining porous.
Fabrics designed for use outdoors are usually fade resistant and UV protected, too. They'll look good and feel soft and comfortable for at least a couple of seasons. When you're evaluating fabrics for outdoor furniture, check cushion seams for heavy-duty thread and consistent, even stitches. Choose cushions with vents that encourage airflow and quick drying.
Invest in furniture with cushions that can be unzipped and taken apart for periodic airing, repair or replacement. It's also a good idea to buy outdoor furniture outfitted with cushions you can turn and flip. This will help them retain their shape, dry more quickly and fade evenly. Acrylics, polyester, treated canvas, and the cotton duck is all comfortable, durable fabrics used in the construction of outdoor furnishings. Look for them in upholstered items, cushions, pillows, curtains, blinds and umbrellas.
CONVENIENCE AND QUALITY
From sloppy welds to cracked casters to amateurish paint finishes, a close inspection will expose that great outdoor furniture bargain for what it is — a bad buy that probably won't last until next season. There are a couple of important lessons here: It's easy to think of outdoor furnishings as somewhat less important than the stuff you buy for indoor use. The reverse is often true. What you buy to use outside has to stand up to sun exposure, wind, rain and probably some roughhousing, too. Inspect every piece you're considering for flaws, especially if the deal sounds too good to be true. This is one area where a higher price is often a good indicator of better quality.
Check out our list of patio furniture here! 
If you have any questions about patio furniture or the sale, contact us here!