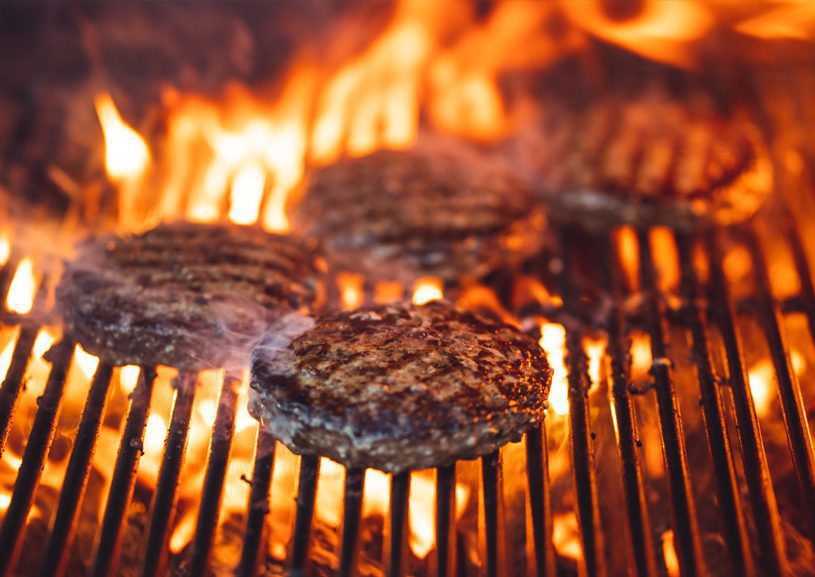 There's nothing quite like a summer barbecue. The bright summer sun, good friends, and a whole lot of delicious food all make your summer barbecue something special. With Labor Day just around the corner, it might be time to start planning your end-of-summer party. You may already have a guest list and some fun backyard activities in mind, but what about the menu? That's where we come in. We've scoured the internet for the best summer recipes, from grilled goodies to succulent sides, to delectable desserts. Oh, and you can't forget the drinks!
Read on for our top picks for each category and start planning the menu for your next barbecue!
On the Grill
Burgers
King Burger – This recipe calls for marinated beef patties to be formed around butter for an extra-juicy flavor. Grill the patties for 5-7 minutes and toast the buns, then serve with sauce, shredded lettuce, and your other favorite fixings for a burger fit for a King!
Bacon Cheeseburger with Sweet Potato Chips – Your side is included in this twist on the classic bacon cheeseburger! Fried sweet potato slices make a crunchy substitute for fries, and you can even sub your favorite cheese instead of American if you really want to spice things up. And don't forget the bacon!
Mexican Turkey Burgers with Cilantro Lime Pesto – Who said turkey burgers have to be boring? This south-of-the-border-inspired burger calls for seasoning the patties with cumin, paprika, jalapeno, chili powder, garlic powder, and onion, just to name a few things. Pair it with the homemade cilantro lime pesto and you've got a zesty burger that's sure to please. ¡Olé!
Black Bean Burger – For vegans and veggie-lovers, try this delectable black bean burger. Black beans, brown rice, and tortilla chips combine into surprisingly delicious patties that when spiced with cumin, will convert any meat-lover over to the veggie side.
Hot Dogs
Grilled Hot Dogs with Hatch Pineapple Salsa – For a tropical twist on a classic, try this Hatch Pineapple Salsa recipe drizzled over perfectly grilled hot dogs. The chiles and pineapple blend with pepper jack cheese for an island taste that you just can't beat!
Chicago-Style Hot Dogs – Get a taste of the Windy City in your own backyard! This recipe calls for homemade poppy-seed buns and sport peppers for a truly authentic Chicago dog taste.
Other Meats
Soy-Basted Chicken Kebabs with Sesame-Citrus Sprinkle – Kebabs are a great barbecue option, and this twist on chicken is sure to please even the toughest crowd. Soy, sesame seeds, and lemon zest combine for this Asian-inspired twist on grilled chicken.
Thai Curry Grilled Chicken – This one requires a little prep to marinate the chicken overnight, but the combination of lime juice and coconut makes the chicken so creamy and tender and perfect for summer!
Creamy Herb-Grilled Salmon – Sour cream, ranch dressing, and a bunch of herbs pack a flavorful wallop with this tasty twist on grilled salmon. Not too heavy and light and creamy, the fish with this sauce screams easy summertime living.
Grilled Shrimp Tacos – Who doesn't love tacos? Olive oil, lime juice, chili powder, and cilantro blend together to give your perfectly grilled shrimp a little summery kick that's sure to be a crowd-pleaser. Garnish however you like but we recommend avocado, cheese, and hot sauce for an extra punch!
Veggies
Corn on the Cob with Seasoned Salts – A little salt, pepper, paprika, and olive oil turn bland, boring corn on the cob into a flavorful favorite that you'll want to add to your list of summer staples.
Grilled Mixed Mushrooms with Sesame Dressing – Mushrooms can be prone to drying out when you grill them, so seasoning them with a liquid, such as in this case, a mixture of soy sauce and butter, helps keep them moist and flavorful. Each different mushroom type will have a different cooking time, so pay attention to how long each one needs to grill for the perfect mushroom each time.
Balsamic Vegetable Skewers – Balsamic vinaigrette adds a tangy taste to basic grilled vegetables. The key to this recipe is choosing vegetables that stay firm on the skewer while grilling so they don't lose their texture and flavor. Zucchini, squash, red onion, bell peppers, and grape tomatoes are the perfect combination.
Grilled Corn, Tomato, Feta, and Herb Salad – In case you're not a fan of corn on the cob, try charring it and then removing it from the cob to combine with tomato, feta cheese, parsley, basil, and mint for a delicious, crisp salad.
Scrumptious Sides
Smokin' Potato Salad – Potato salad is a classic barbecue side dish, but this twist calls for smoking the potatoes on the grill first before chopping them and adding the other ingredients.
Garden Pasta Salad – Pasta salad is also one of those classic sides for family cookouts. Tri-color pasta and several varieties of bell peppers make this a colorful, flavorful addition to any barbecue buffet table. It's also super quick to make!
Baked Beans with Brown Sugar & Bacon – Skip the canned baked beans! This recipe is super easy to make and leaves you with the perfect savory, sweet AND smoky baked beans that will have you coming back for seconds.
Cucumber Tomato Salad – For a refreshing summer side, mix cucumber and tomato with basil, balsamic vinegar, and olive oil, and voilà! You've got a simple, fresh salad ready for serving.
Zucchini Fritters – A perfect way to sneak vegetables to even the pickiest of kids; slice up a zucchini, mix it with flour, parmesan, egg, and garlic and fry them in a skillet for a crunchy, healthy side dish.
Sweet Potato Fries – It's hard to have a burger without fries, but sweet potato fries are a great way to switch things up. Slice up some sweet potatoes and season them with cinnamon or red pepper depending if you want sweet or spicy, then simply place them in the oven to bake!
Delectable Desserts
4-Ingredient Blueberry Yogurt Popsicles – Sweet, tart, and a little creamy, these simple popsicles scream summer and will make all your guests scream for more! And at just four ingredients, blueberries, yogurt, honey, and milk, it doesn't get any easier to have a frozen tasty treat.
5-Minute Jello Salad – No barbecue is complete without a jello salad for dessert. Try this super-simple recipe with strawberry or raspberry jello, cottage cheese, and cool whip for a fluffy, delectable dessert.
Fluffy Key Lime Pie – On the theme of jello, try lime gelatin in this easy, no-bake pie that is sure to cool you down in the heat of the summer.
Frozen Greek Vanilla Yogurt – Looks like ice cream, but it's much healthier for you! Simply mix low-fat greek yogurt, vanilla extract, gelatin, and sugar and let it freeze into the perfect consistency.
Peanut Butter Chocolate Dessert – For both lovers of chocolate and peanut butter, this combination dessert "lasagna" is sure to be a hit!
At the Bar
Watermelon Mojito – Mojitos are a classic summer cocktail, and the watermelon twist is sure to cool you off on even the hottest of days.
Mai Tai – Can't have a taste of the beach in the backyard without a classic Mai Tai. Float dark rum on top of pineapple juice, light rum, and triple sec for a sunset-inspired cocktail.
Frozen Pina Colada – Another drink so classic there's even a song about it, the Pina Colada will have you humming your favorite song and sipping your favorite pineapple-coconut concoction all evening long. Plus this recipe even has a virgin variety, so everyone on your guest list can feel sophisticated.
Lava Flow – Creamy and Hawaiian-inspired, you'll love this pineapple, banana, strawberry, coconut, and rum blend. It's the perfect way to bring the beach to your own backyard.
Pineapple Mimosa – Pineapple vodka, sparkling wine, orange juice, and lemon juice make this summer bar staple a refreshing anytime drink.
Bon Appétit!
Is anyone hungry yet? I know I am! Pick your favorite dishes and call your closest friends and you'll have a Labor Day barbecue to remember until next summer. And if you need help firing up the grill (or choosing a new grill), stop by Cincinnati Pool and Patio for all the things you need to make your backyard barbecue a hit.