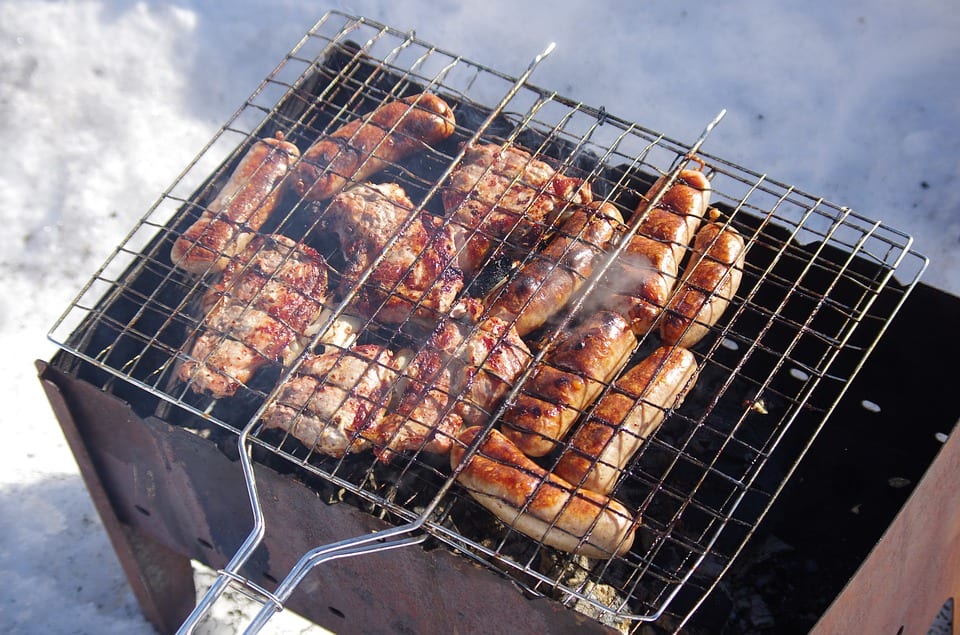 Tips For Grilling In Winter
When the temperatures start to drop, our first reaction is to escape to our homes and avoid braving the cold as much as possible. We're here to tell you that you don't have to become a recluse this winter! You can enjoy a delicious grilled meal just like summertime! Yes, you can enjoy grilling in winter.
Keep it Covered
Getting a cover for your grill before winter is important because it not only will protect your grill from the elements, but a cover makes grilling more convenient during the months of heavy snowfall. Simply dust the snow off the cover with a shovel or brush, then remove the cover, and you have yourself a snow-free grill. We always recommend keeping a shovel or brush right outside your back door to clear a path to your grill as well.
Fuel Check
Make sure to keep extra fuel nearby during cold months. Charcoal should be stored in a dry place protected from snow or rain. When you are grilling with charcoal be sure to use a little extra because it will burn quicker in colder and windy weather. For all gas grilling, remember to preheat with all burners on high for at least 15 minutes. Having a full gas tank and extra charcoal ensures you will be able to keep your grill at the desired temperature.
The colder temperatures will mean your grill will need a little more time to get up to the temp you want for cooking. Give it a good 5-10 minutes extra from what you would normally wait. It is best to pre-heat to 400 or 450 degrees as a minimum and then adjust the temperature. When you place your food on the grill and it doesn't sizzle then that tells you that it is not nearly hot enough. If cooking on a charcoal grill, make sure to use plenty of charcoal to get the heat needed for grilling.
Stay Warm and Safe
The Midwest hit some low record-breaking temperatures last year, so just remember if you are going out in the cold to grill, bundle up in your winter gear, tuck in any scarfs inside your coat, and use your grilling gloves when handling the grill!
Safety First
Just because it's cold outside remember it is never a good idea to grill in an enclosed space that can trap deadly carbon monoxide, like inside a garage, under an overhang, indoors or in an enclosed area. In addition to carbon monoxide accumulation, accidental fire damage, and smoke damage are all possible to be aware of any loose or dangling clothing that could catch on fire.
Being well-prepared is the best way to avoid problems. Place your grill on a firm level surface—a wooden deck is not the best choice for obvious reasons! Keep your spare fuel away from the lit grill.
Winter clothing like scarves can trail into the flames, so be sure you're safely dressed when grilling.
Good Lighting
If you're grilling in winter after dark, you'll need to choose outdoor lighting, both for atmosphere and practicality. Light strings are an attractive feature when draped around your deck. Don't rely on extension cords as your power source because they are a trip hazard. And beware of naked flames like candles if children and pets are around.
For grilling, a good overhead light is best, but you can get excellent visibility with a powerful headlamp that leaves your hands free for cooking.
Invest in Grilling Gloves
Normal winter gloves might keep out the cold, but they won't cut it for grilling. Purposely designed grilling gloves are made to withstand extremely high temperatures and have long cuffs to protect your hands and wrists against burns. Made from fire-resistant material such as silicone, they won't wear into holes, and they often have special non-slip grip for safety when handling hot food and utensils. And best of all, they're easy to clean—some are even dishwasher-safe.
Avoid Catastrophes
Planning is key: Locate your grill at least 10 feet away from fences, buildings or other flammable materials. Have a designated place for raw and cooked food and don't mix the two—no one wants food poisoning to follow a great barbecue! Use separate utensils, too.
Build a Permanent Grill Shelter
For confirmed winter grilling fanatics, the best solution is to construct a purpose-built shelter that houses your grill, and also has a wide range of customizable features like built-in cooler space, storage for barware and beverages, lighting and bench seating.
Have any questions about grills, grilling in winter,  or any other products that we offer? Contact us here.