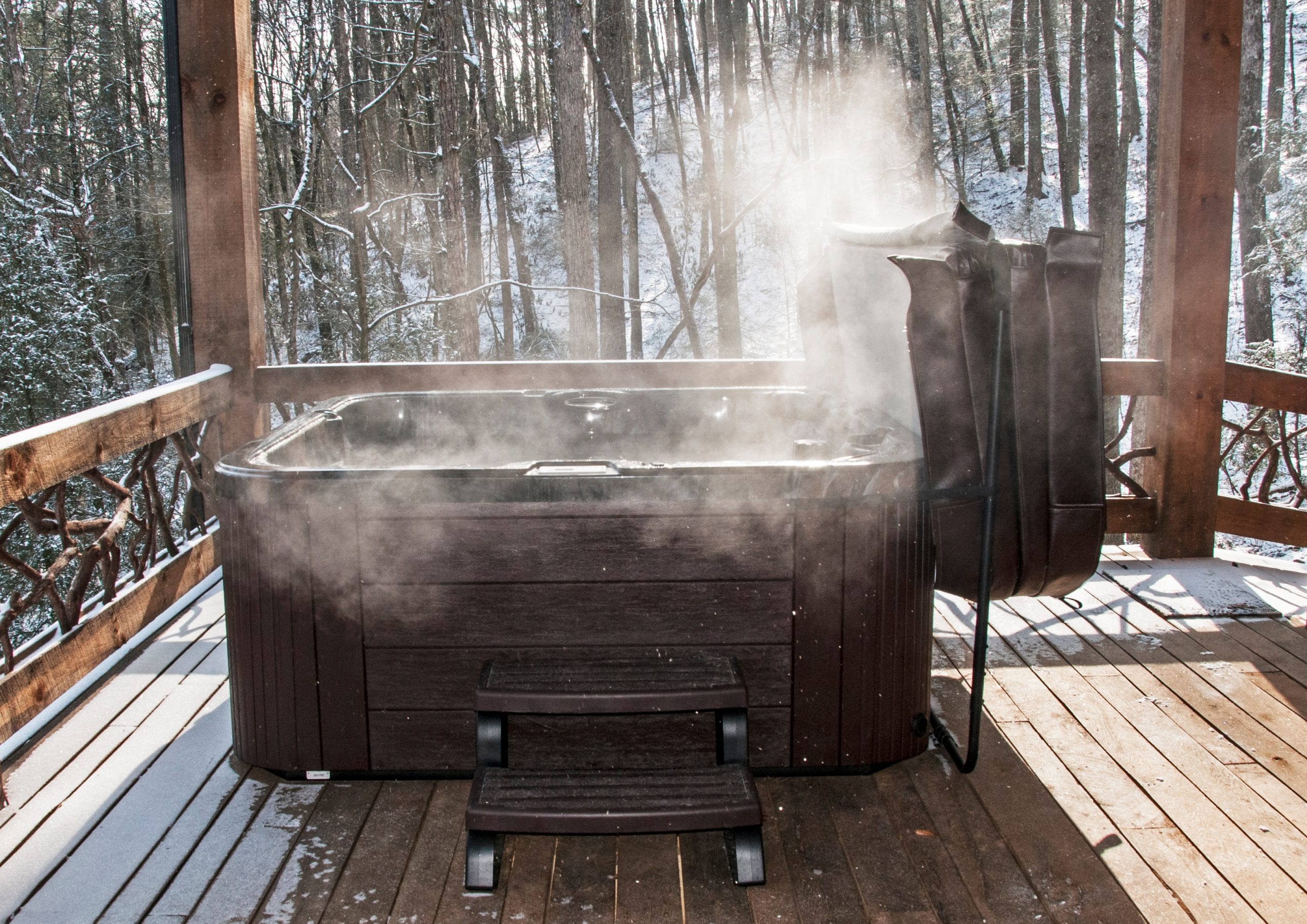 Use Your Hot Tub in Winter
A great way to escape the cold is to create a warm haven in your backyard. Your hot tub or spa are the perfect ways to stay warm in the winter.
Here are our tips for using your hot tub in the winter.
Invest in a Good Cover.
Make sure your cover is well-insulated and has a tight-fitting seal. A high-quality cover in good condition will help your hot tub maintain a constant high temperature, even when the weather is frightful.
Hot tub covers insulate much better when they're locked. When locked, the straps pull down on the edges of the cover, forming a tight seal that keeps heat in. Without the straps being locked, the edges of the hot tub cover can lift slightly; allowing heat to escape.
Not only will this cost you money in extra heating costs, but a bad seal will also allow steam to escape. This means having to top up the water level more often and having to add more chemicals to balance the water.
Monitor the Water Level.
Check your water level frequently and add more as necessary. If the water level falls too low in cold weather, the components may freeze, which could damage your hot tub.
If the water level drops too low your pump and heater could shut down resulting in frozen water and possible damage to your hot tub.
For most hot tub owners, there are times in the year when you're just too busy to use your hot tub. The problem comes when that lack of use becomes a lack of maintenance. There are a few reasons why you don't want to neglect your hot tub, the biggest being all the time and effort required to fix a hot tub with water quality issues.
Even if you're not using the hot tub, you should still try to get out at least once a week to check on it and add your maintenance chemicals. Doing this can save you a massive headache later and makes sure that your hot tub is ready to use when you're ready to start using it again.
Keep the Water Clean.
Make sure you clean and maintain your water and filters according to your usual schedule. Simple problems can become more complicated to fix in subzero weather.
Change Your Water Early.
If your tub will be due for a scheduled water change during winter, it's a good idea to shift it to earlier in the year.
Changing water while the outside temperatures are low can be particularly challenging, as there's a risk of water freezing and damaging your spa.
Conventional wisdom says that you should change your hot tub water every 3-4 months. For some people, this means having to change your water in the dead of winter.
While having freshwater does make for a more enjoyable hot tub experience, changing your water in -20C weather is never a good idea. The risk of your pipes freezing greatly outweighs any benefits that changing the water has.
If you need to change the water, do so in small batches. Remove 6″-12″ of water at a time; refilling – and reheating – the water in between these partial drains. While this won't get you the same results as completely draining and refilling the hot tub, it will get you by until the weather warms up.
Turn Down the Jets.
Use the jets to a lesser extent than you would in other seasons, and don't forget to turn them off when not in use. The jets work by blowing air into the water, which can lower the temperature.
Be Smart About Soak Times.
The longer you stay in your spa, the higher your body temperature climbs. While it may be tempting to linger in the comforting warmth of your hot tub when the outside air is cold, try to limit your soak time to about twenty minutes. Moving from extreme heat to extreme cold can place dangerous stress on your body.
Have a Plan for Retreat.
Cold weather can be dangerous, particularly when you're wet and wearing a bathing suit. After your soak, when you must leave the protective warmth of your spa and face the icy winter air, make sure to immediately shield yourself from the cold. Keep a bathrobe and shoes or sturdy slippers nearby, and get indoors as quickly as possible after leaving your hot tub.
Enhance Your Outdoor Sanctuary.
Use accessories to add warmth and comfort to your outdoor hot tub environment in the winter. Consider adding heating lamps, or a towel warmer, or maybe simply a weatherproof rug to protect bare feet from the frozen ground. Just make sure all electrical devices are either battery-operated or are placed far enough away from your hot tub to avoid any possible risk of electrocution from contact with water.
Closing Your Hot-Tub
If you won't use it in winter, you can save money by closing it. However, you can't just close the cover and forget about it. You need to take the time to properly drain and dry out your hot tub before it gets too cold. If you don't, you could end up with an expensive repair in the spring.
Flush and Drain Your Hot Tub
First, you must flush your system and drain all the water from your hot tub. During the cold winter months, uncirculated water can freeze and cause damage to the pumps.
Air Blower
If your spa has an air blower, you need to take the time to drain it too. Shut off the heater and run the blower to push all the water from the system.
Remove the Filters
Closing your hot tub for the winter is a good time to pull out and clean the filters. If they are worn out, now is the perfect time to replace them. Clean and dry them and put them somewhere safe during the winter.
Loosen Fittings
After you have drained your hot tub, there could still be water in many of the plumbing fittings as well. Loosen these fittings and allow all the water to drain out of them. If you have a gas heater, shut it down and drain the water from any valves.
Blow Your Jets
You need to be sure there is no water in the jet system as well. Using a wet-dry vac, blow air through each jet to make sure all water has been blown from the system.
Final Clean Up
Mop up any water and make sure the inside is dry. Once it has been dried, give it a good cleaning before putting your cover on. Locking it for the winter will make opening the hot tub in the spring much easier.
Interested in learning more? Contact us here.