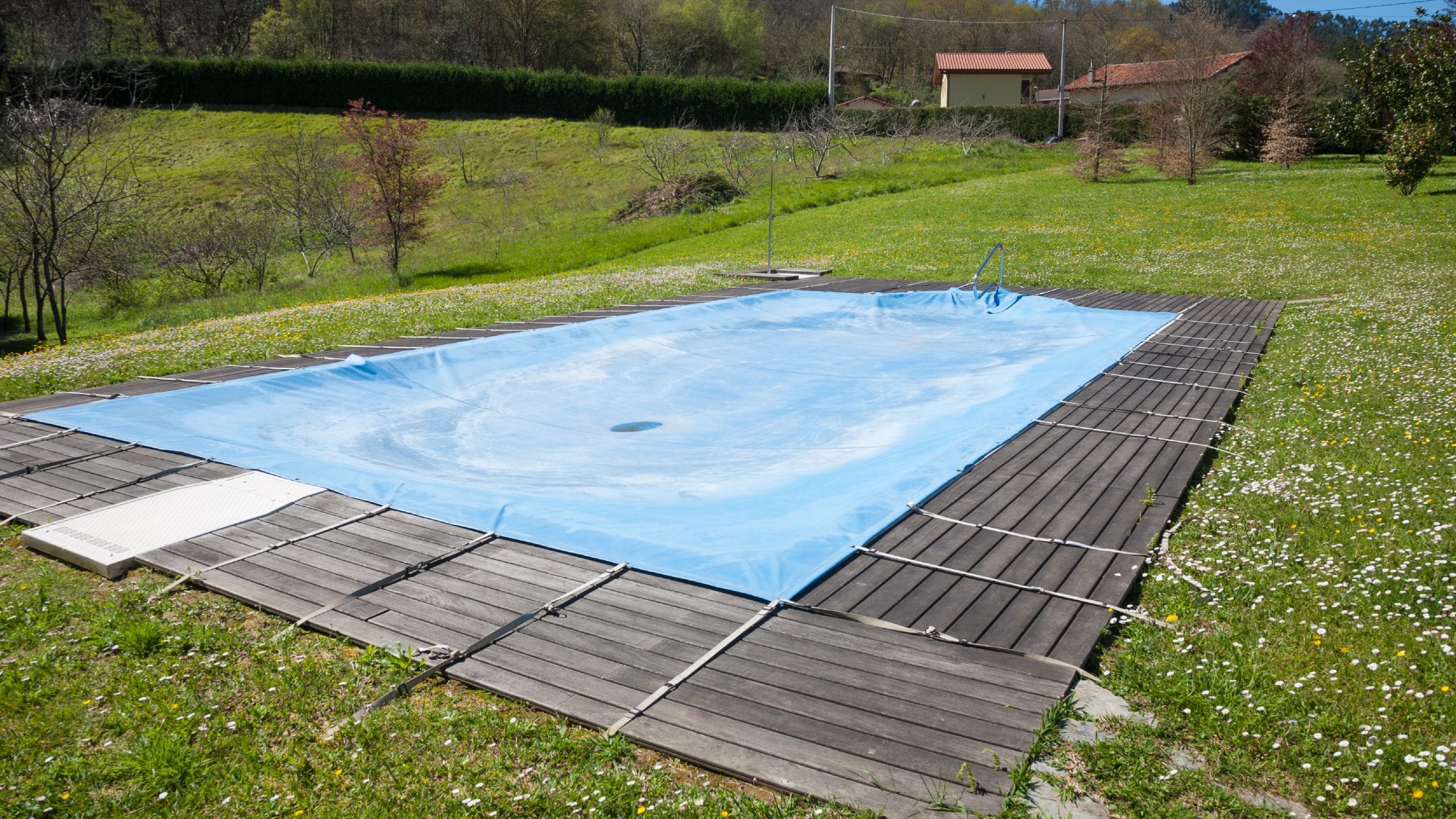 Closing Your Pool
With summer gone, it's time for above ground pool owners to close down their pools. Winter brings frigid temperatures and ice can cause thousands of dollars of damage to pools that aren't prepared correctly. That makes properly closing down your pool an essential part of pool maintenance. Here are our key steps to prepare you for closing your pool.
In-Ground Pools
The first task in prepping your pool for its winter nap is to make sure the water chemistry is correctly balanced to last through the winter without corroding or forming scale on the sides of your pool. This will also keep the thousands of gallons you have in your pool clean and ready to use next summer.
Next, cycle the water through the pump and filter for a few days until chlorine levels to return to normal. Then add winter algaecide.
On closing day, clean the pool one last time. Be sure to use a brush on the walls and the bottom to clear any leftover algae or silt. Drain water from the pump, filtering, and heating systems.
It's a general practice to drain the pool below the mouth of the skimmer inlet. The idea is to keep water out of the filter and pumping system. While this sounds convenient, freezing may be an issue if you have tile at the waterline.
Above-Ground Pools
You'll need to remove and store pumps and filters. Insert plugs into the pool filter water intake and outflow openings (usually in the pool's sidewall). Disconnect all hoses from the pool and let it drain. Disconnect and drain all water heaters, filters, skimmers, automatic chlorinator, or salt chlorinator, and then store these in a warm, dry place like your basement.
Lastly, inflate and deploy the pool pillows and cover the pool. Be sure the cover is secure so that it won't blow away and that there is enough support from the pillow underneath so that ice meltwater will drain easily from the cover. Otherwise, ice and meltwater can stretch and tear the cover and contaminate your pool water.
Closing down your pool may sound like daunting maintenance job, but it's something that can be finished in the span of a week but a mistake could cost you thousands.
There's a lot more to it than just slapping a cover on and calling it a day.
Let's take a look at what you need to do to get your swimmin' hole ready for its long winter's rest.
1. Get the timing right
Closing your pool too early can encourage algae growth and make your job a whole lot harder when it's time to reopen the following spring.
Make your life easier and enjoy your pool longer by waiting until late summer.
If your pool is heated, you can get away with waiting until October.
A good rule of thumb is to wait until the water is consistently lower than 65 degrees before closing.
Begin the process about a week before you actually want the pool to be closed.
2. Clean it up
Brush the sides and bottom of your pool and then vacuum it. A thorough cleaning before closing for the season will help to prevent algae growth and lighten your workload when it's time to open it back up.
3. Test the waters
It's best to take a sample of your pool's water to a reputable pool store to have it tested.
You'll want the pH to be between 7.4 and 7.6 and the alkalinity to be between 100 and 150 ppm.
Shoot for the top of these ranges when you're closing your pool for the winter.
4. Add the chemicals
The winterizing chemicals you'll add to your pool are:
A pH increaser and/or an alkalinity increaser.
Sanitizer, such as Chlorine or Bromine.
Chlorine shock.
Winter algaecide.
Keep in mind that the chlorine shock will destroy the algaecide.
The best course of action is to add the shock five to seven days before closing your pool, and then waiting to add the algaecide until right before you put the cover on.
5. What about the filter and pump?
Remove the drain plugs and allow the pump to drain. Remove the pump and all the hoses that are attached. If you have a chlorinator, that should be removed at this time as well.
If you keep all the drain plugs in the pump basket, you'll know right where they are and you won't risk them getting misplaced.
The hoses, pump, and chlorinator will last longer if you store them inside during the cold winter months.
No matter what type of filter you have, it will need to be removed and cleaned before storage. Filters should also be stored inside, with the exception of a sand filter, which may be too large and/or heavy to take indoors.
6. To drain or not to drain?
There is some debate about the validity of lowering the water level for the winter. This issue revolves around protecting the skimmer from cracking due to freezing temps.
For an above ground pool, removing the hose from the skimmer and using a winter skimmer cover plate will remove the need to drain the pool at all. The normal level will actually be better.
An inground pool is a bit different. Your best bet is to hire a professional to come and blow out the pipes. They can insert a rubber piece that will protect the skimmer from damage in the freezing cold. If this is done, you won't need to drain the pool.
If you have tile on the sides of your pool, you should lower the water level to about 4 inches beneath the tile. This will prevent it from possible damage.
At this point in the process, it's also the best time to remove ladders and any other accessories that can be stored.
7. Cover it up
An above-ground pool will need an air pillow beneath the cover.
You can use clips and cables to secure your cover.
An in-ground pool doesn't require an air pillow but should use clips to secure the cover.
The long wait for spring
You've cleaned and scrubbed, added chemicals and covered up your pool.
Following these maintenance tips gives you the best chance of not having any unwelcome surprises come spring. Have any questions about closing your pool? Contact us here.