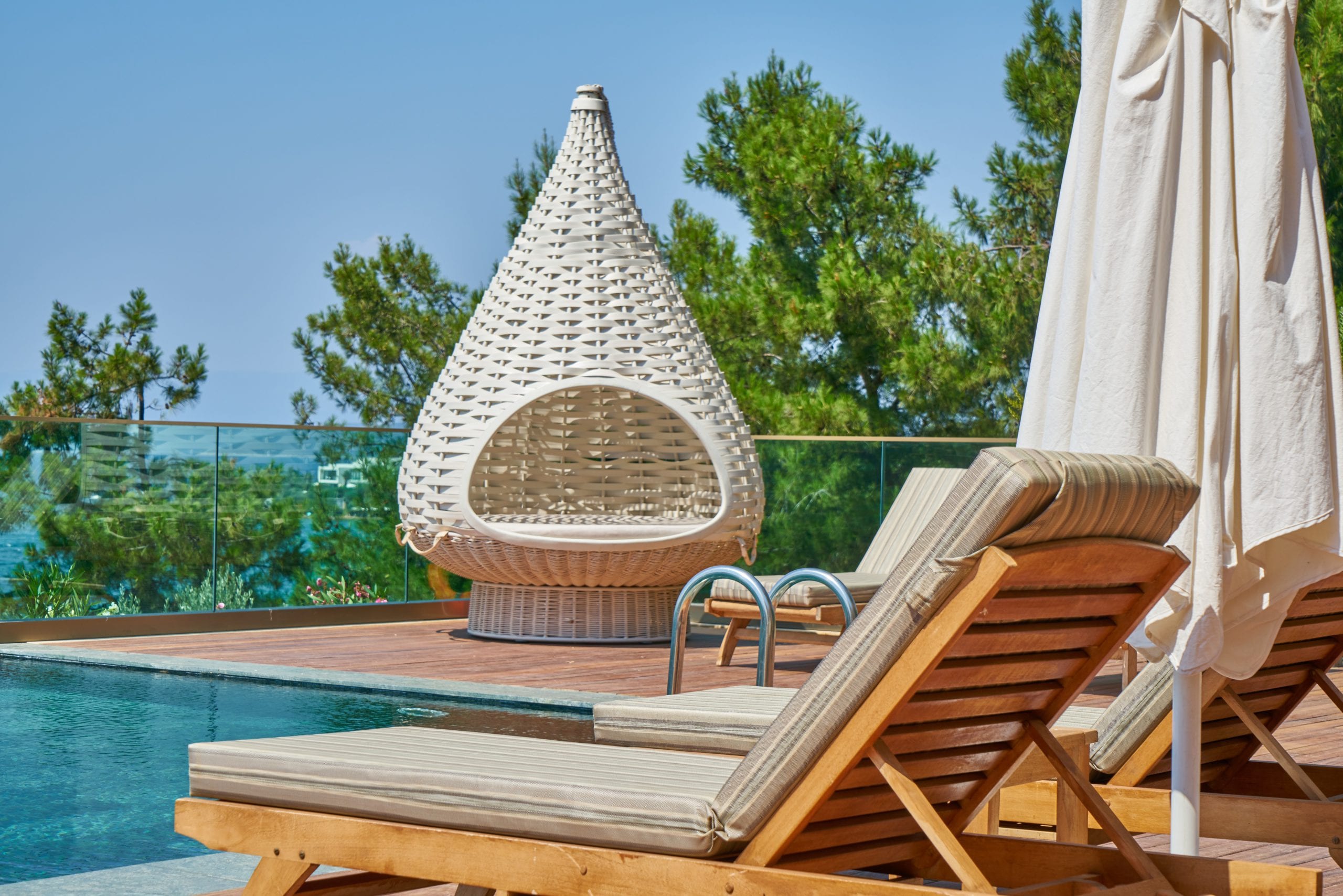 How To Protect Your Patio Furniture
The heat is on and the summer sunshine is upon us! Although we love this beautiful weather, the summer sun can be damaging to patio furniture. To avoid fading paint and other sun damage, here are some tips to protect your patio furniture from the weather:
1. Get a Patio Umbrella
Investing in a good umbrella is among the best tips to protect your patio furniture from the sun. One of the best features of a patio umbrella is its versatility. It can be moved from place to place or angled, depending on what needs to be protected from the summer sun.
2. Store your cushions and umbrella!
Cushions and umbrellas are easily damaged during storms when left outside. So if a storm is coming, take them inside or store them in a heavy-duty outdoor storage container. Umbrellas can get sun and wind damaged as well. So if you are not using your umbrella, make sure it's secured in an umbrella base and covered with an umbrella cover or store it away inside.
3. Try a Pavilion
Pavilions are another great way to stay protected from the sun. Not only does it help hide you from the sun's harmful rays, but it can also turn your outdoor space into a private oasis. When it comes to tips to protect your patio furniture, you can't go wrong with a pavilion.
Pavilions are a fantastic way to provide large areas of shade. They're large enough to cover a complete patio set and hide your summer picnic or family BBQ from the summer elements. A pavilion can transform your backyard space into a separate outdoor living area that provides ample shade for the whole family.
4. Cover your Furniture!
It's the BEST way to keep your furniture dry and free from any debris or scratching during a storm. And make sure to find the right fit for your chairs, tables, and umbrellas. Measure your furniture before buying your furniture covers or if you've purchased with American Sale, remember your set name and we can help you find the proper fit for your seating group. We sell individual covers for pieces, but we also sell covers for chairs and tables together.
5. Powder coat it.
Powder coating your patio furniture is the equivalent of covering your skin in sunscreen. It creates a layer of protection between the metal item and the harsh UV rays, slowing the progression of the damage caused by the sun. Though it won't last forever, powder coating can help your furniture resist fading and rust, giving it a great finish for longer than any other wet paint product.
6. Get a Tent
If a pavilion is too large for your outdoor space, consider a tent. Tents are a great way to provide a shaded area that can be placed over seats, a children's sandbox or a kiddie pool to protect the little ones from the harmful rays the sun brings.
One amazing thing you can add to your tent (or your pavilion) are water misters. While sitting in your protected space you can get a cool-mist amongst the heat. If you're looking for tips to protect your patio furniture, adding a mister will also make cleanup easier by spraying down your tables and chairs.
7. Trim Your Trees!
Large tree branches hovering over your patio furniture can pose a threat to damaging your set. It's a good idea to make sure any tree branches that are overhanging your set are either trimmed or removed. Also, if you have an awning, make sure it's closed or secured before a storm just to make sure your patio furniture doesn't get damaged by it.
8. Weight your furniture!
Weighing down furniture with sandbags or weights can also be a good idea if the storm is going to be particularly strong. This depends on the weight of your furniture itself as well. If you have a sling, aluminum, resin or wicker patio furniture, weighing down your table and chairs is a GREAT idea. If you have a cast iron or aluminum set, you may not have to do this. Chairs should also be tucked in under the table and umbrellas should always be placed in a heavy umbrella base like below to keep it from blowing away.
9. Protective cleaner
When it comes to protecting furniture from the weather, umbrellas, and covers are the go-to resource. Do not forget that protective cleaners can go a long way in keeping your furniture safe during the times there is no cover. The sun moves all day, so chances are at some points throughout the day, your furniture will be exposed. Using a protective cleaner regularly prepares your furniture for any exposed time and keeps it safe from permanent damage.
Enjoy the Summer
However you choose to catch a break from the sun this summer, Cincinnati Pool & Patio has a plethora of options to best suit your space, budget, and outdoor decor. Make sure you have fun and stay protected this summer.
Contact us today with any questions you have today!