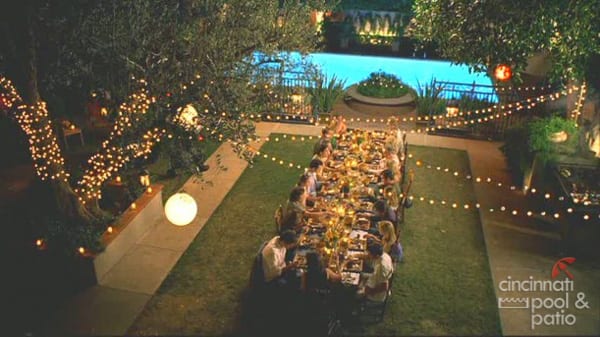 Thanksgiving Backyard
With October behind us, it's time to look forward to Thanksgiving and the holidays! This year, do something a bit unexpected—take your feast outside.
It's totally doable for those who live in warmer climates. And even in the Midwest, it's sometimes unseasonably warm in November. With these tips and a bit of prep time, you can style a rustic outdoor supper your friends and family won't soon forget.
Plus, an outdoor Thanksgiving is more festive (and chic) than being cooped up inside with football on the television.
Use these tips to make your Thanksgiving this year one to remember!
Use Pillows and Blankets to Stay Cozy
Even if it's warm for November, there will still be a chill in the air on Thanksgiving. Use pillows and wool tartan throws to keep things casual, cozy and autumnal during your feast!
Food Table and Covers
To give everyone room at the table, use a separate table for food and dishes.
Other things you'll need are mesh food coverings. Protect your delicious food from unwanted pests to ensure everyone can enjoy it!
Patio Lighting
Since the time change, it turns dark fairly early now. To extend your outside feast, you should strong lights around your patio!
Fire Pits
Be prepared for the chilly temperatures and place some firepits in your backyard. Not only will this help warm up your guest, but they can be used to roast marshmallows after dinner!
Yard Games
Outside yard games are a great way to fully enjoy your backyard during Thanksgiving. Some examples of games are cornhole, washers, horseshoes, badminton, and croquet!
Have any questions about your backyard or patio? Then contact us here!