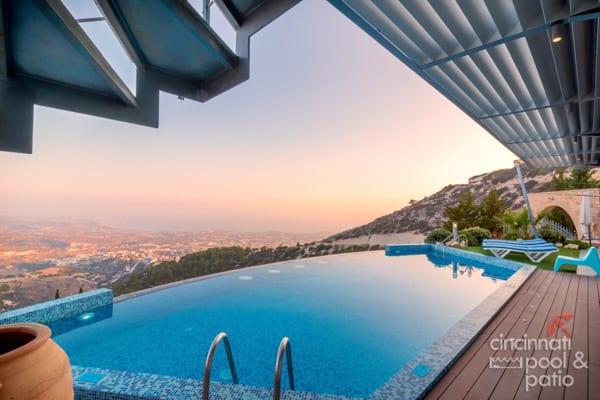 Pool Trends
Are you considering building or reconstructing your own pool? New pool trends pervading across the industry are offering more features that add more individuality and pizazz to your pool design. Designs and features that make your pool unique and appealing are endless and the trends continue to emerge.
Take a look at the latest pool trends:
Infinite Edge
Infinite-edge is a cosmetic design feature that allows the edge of a swimming pool to drop off into the horizon. An effect created through a lowered lip, which overflows over one edge and allows the pool to merge into the surrounding landscape.
Remote Controlled Pools
As technology evolves, innovations to custom pool design mature with it. The most recent technological developments allow your luxury pool to be controlled remotely. Often offering features that allow you to connect to the pool over your smartphone or mobile device. This puts features like lighting, pumps, temperature and cleaning at your fingertips, wherever you are.
You can now heat your pool on your way home from work!
Natural Lighting
Lighting is an integral aspect of architectural design, and the lighting for your pool is no different. Skylights, windows and sliding doors are a must have for indoor pools that require natural lighting. In-ground deck lights add drama to the design, whilst illuminating the path to a pool. The addition of carefully selected lighting helps control the atmospheric quality of your pool and can be used to create exciting effects on both the main pool and water features.
Heating and Cooling Systems
Pool heating is not new, but the options available on the market are becoming increasingly sophisticated and efficient. Some heat pumps now include cooling functions to keep the water comfortable on those hot summer days. Luxury options can also provide ecological heating solutions, such as solar and geothermal energy.
Outdoor Living Spaces
With a growing emphasis on family and lifestyle design, Canny has long emphasized the architectural importance of well-integrated indoor and outdoor spaces. Swimming pools that serve as a central feature of your outdoor living spaces and serve a variety of entertainment functions are by no stretch a thing of the past. But how well do they fit in with your indoor living spaces?
Interested in using one of these trends for your pool? Contact us here!