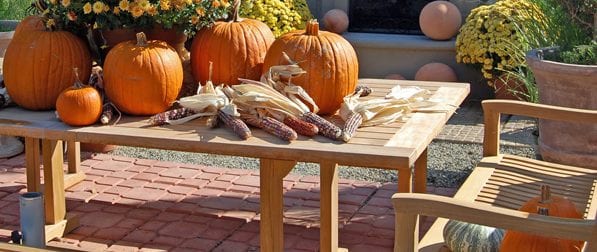 Patio Furniture
This time of year is perfect to prepare your outdoor furniture for the upcoming cooler months. While most furniture nowadays will stand up to the harsh winter elements, there are some things you can do to make sure it will look its best next year. After all, the happier you are with your furniture, the more likely you are to use your outdoor space for entertaining!
Before you jump right in and accept that this year's Summer season is over, keep in mind that some of the best temperatures for spending time in your outdoor space have yet to come. In fact, you may find yourself outdoors more now than during those hot afternoons.
Here is our list of what you should do to prepare your patio furniture for cold weather.
How to Prepare Your Patio Furniture for Cold Weather
1. Know what choices you have for storing outdoor furniture. Whether it be a garage, shed, or storage unit, knowing how much space you have ahead of time will make things easier for you when it comes time to store it.
2. If storing in a dry location isn't possible, at least remove the cushions and put them indoors. You can also use mild soap and water to clean it.
3. If you have to leave everything outdoors, we recommend investing in heavy-duty, waterproof covers that will protect from the elements. Vinyl is a durable and budget-friendly option!
If you need any help with your patio furniture or backyard living, don't hesitate to contact us here.