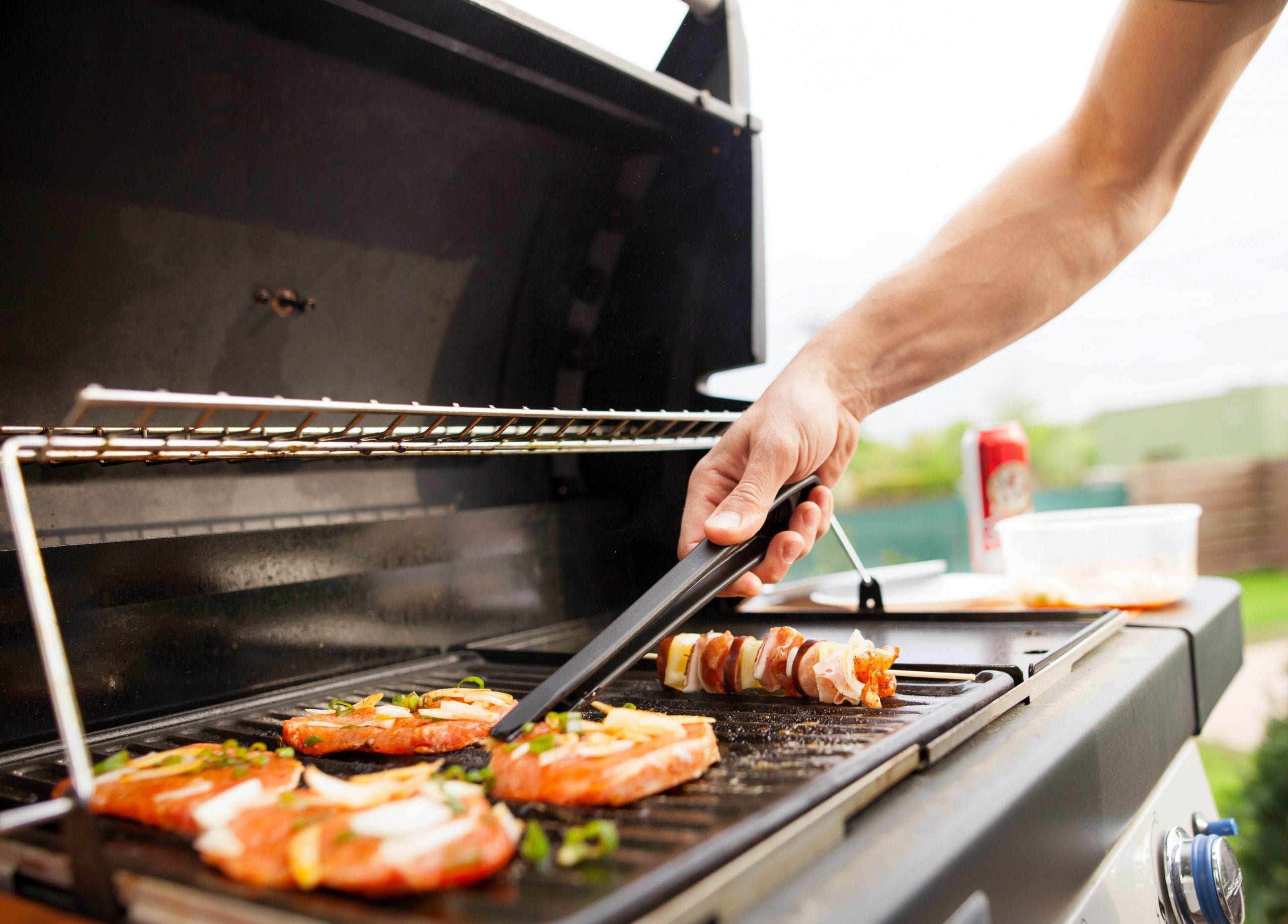 One of our favorite things about summertime is summer barbecues and cookouts. We know not everyone is a grill master. That's why we've assembled a list of our best grilling tips to ensure you can have fun and be safe during your summer cookouts.
Here are 14 of our grilling tips!
The Pool and Spa Warehouse's Grilling Tips
Clean Your Grill
Start with a clean grill. Don't let last night's salmon skin impart a fishy-char flavor to tonight's chicken breasts. Use a sturdy metal brush to clean the grates in between uses.
The Less Movement The Better
Don't move the food around. In general, the fewer times you flip something, the better (once is ideal for most meats). If the meat is stuck to the grill, let it cook more — it will unstick itself when it's ready for flipping.
Don't Press Down
Don't squeeze or flatten meats. Yes, I know that burst of sizzling flame that comes from squishing a burger with a spatula is tempting. But you know what is creating that flame burst? Fat. And you know what fat is? Juicy flavor. Don't squish meat, because you will squeeze out the taste and moisture.
Keep Water Near
Keep a spray bottle handy for flare-ups. Flames are not your food's friends — they will char it unpleasantly. Keep a spray bottle filled with water handy; this will allow you to dampen flare-ups without interfering with heat.
Check The Temp with a Thermometer
Buy a meat thermometer. Unless you are a very experienced cook, it is hard to tell meat's temperature merely by touching it. (Although if you are interested, here's how to do it: Touch the meat. If it's soft like the flesh between your index finger and thumb, it's rare. If it's soft like your cheek, it's medium-rare, and if it's firm like your forehead it's well-done.) More accurate for most of us: A quick check of temp from a thermometer. Your confidence in grilling will skyrocket with this one $10 purchase.
Use aluminum foil to trap heat.
Really hot grill bars equal great grill marks on your steaks. To concentrate the heat and keep it from escaping, lay a sheet of foil over the grill for 10 minutes. Peel the foil off just before cooking, scrunch it into a ball (it cools fast) and use it later to scrape any residue or ash from the bars.
Bring the Meat to Room Temperature
Avoid putting cold foods straight on the grill. Letting meat come to temperature on the counter for 30 minutes before grilling will help it cook more evenly. (If you are looking for a rare sear, however — like if you're grilling tuna, for example — then chilled is the way to go!)
Season meat liberally.
One of the most important grilling tips. Big, thick steaks need a lot of seasoning, so be sure to cover them liberally with salt, pepper, and any rub before grilling. A good rule of thumb for home cooks is to salt the meat twice as much as you think is needed.
Under not over
Undercook foods, just slightly. Carryover cooking is a real thing — food continues to cook after it leaves the grill. You can expect food temperature to go up about five degrees after leaving the grill, so plan accordingly.
Don't poke.
When checking for doneness, resist the urge to repeatedly poke, stab, or pierce your meat with a fork or prongs. The juices will escape, making the meat drier and less flavorful. Use a spatula or tongs to gently move and flip your food
Create heat zones.
On a kettle grill, bank up the coals in the center. Sear food in the middle, where heat is highest, then moves it to the outer edges of the grill to perfectly cook without burning. On a gas grill, leave one burner on high, another on medium.
Cook on the coals.
Lay sweet potatoes, onions, and even corn in the husk directly on the embers. Roast, turning with tongs until the skins are coal black. When you scrape off the burned skin, the vegetable inside will be super sweet and smoky.
Let It Rest
Rest all meat! Allow the meat to sit undisturbed (and unsliced!) for five to 15 minutes after cooking, as this will allow the juices to redistribute. The bigger the piece of meat, the longer the rest time. Resting meat is an important key to juicy results.
Don't Over Char
Don't over-char to cook through meat with bones. No one wants to eat meat covered in thick, black char. If you have thicker meats with bones, such as chicken thighs or legs, cook them on high heat to get a nice crust, and then move to lower, indirect heat on the grill. This will allow the meat to cook through more slowly without overcooking the outside. Or, consider par-cooking the chicken in an oven for 15 to 20 minutes before grilling. Also great to precook: ribs!
Have any questions about grills? Or need more grilling tips? Don't hesitate to contact us here!